Gift Giving
By Brooke Vaughan Schroeder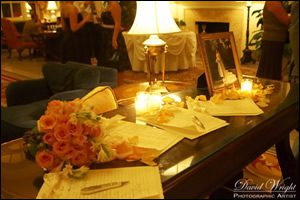 Thanking and recognizing all the amazing individuals who have helped make your wedding possible is one detail that shouldn't be overlooked before, during, and after your wedding. It doesn't just have to be the thank-you note, though those are always welcome. Just think: One of the most fun aspects with your planning will be coming up with creative ways to thank others for their love, time and support.
"Don't forget people working so hard behind the scenes," reminds Cat McAfee, owner of Carte Blanche Specialty Invitations & Gifts says. "A simple note to let them know you haven't overlooked them is (meaningful)." Gifts don't have to be expensive but McAfee advises to "take the time and make a little effort to be creative."
Below are just a few ways to appreciate all those people involved. Be creative, personal and have fun!!!
Family
Family members are usually the ones helping the most with the plans and often the finances. You can honor your parent(s), grandparent(s) or whoever has been most helpful with a special thank you note, recognition in the ceremony program, a toast at the rehearsal dinner, and/or a gift presented at a more intimate gathering. Hendry encourages the brides she works with to write their parents a note, which she delivers, once the bride and groom have left the wedding. It is an unexpected and thoughtful way to say thank you.
My husband and I ended up giving our parents framed watercolor prints of the church where we got married as a decorative reminder of that special day they helped make happen. Cook them a meal, give them a photograph, or plan a fun trip – whatever you do make it heartfelt and personable. You may want to treat them with a special out-of -town guest bag filled with their favorite comfort foods and beverages, especially if they are traveling from a distance to be with you.
Wedding party
For flower girls, ring bearers, attendants, bridesmaids, groomsmen, ushers and anyone else you have participating in the wedding ceremony, it is customary to include their names in the service program and to give them a gift.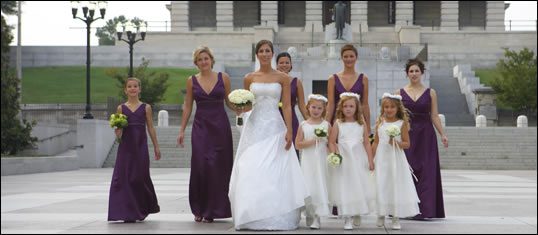 For all your gifts, you will have to decide whether or not you want to give them something to use for the wedding (jewelry, tie, cufflinks etc.), a special keepsake (frame, keychain), or just something fun they will use in the future (monogrammed glassware, gift certificate etc.). Below are a few ideas for each role.
Flower Girls: Hair accessories, jewelry, flower basket to keep
Ring Bearers: Remote-control cars, books, age appropriate toys
Attendants/Bridesmaids: You may want to get everyone the same thing to wear during the ceremony, or you may want to personalize each gift based on the individual. You may also want to honor your maid or matron with a distinct gift. Some ideas include jewelry, jewelry holders, monogrammed bags to use for their change of clothes, frames, scarves, stationery, and spa supplies. You can even pay for a trip to the salon for manicures/pedicures or treat everyone to a hair appointment on the big day. Depending on the cost involved in participating in the wedding, you could offer to pay for the dress or accommodations. Present their gifts at the bridesmaid luncheon, rehearsal dinner, or girl's night out.
Ushers/Groomsmen: A few options include cufflinks, monogrammed glasses, grill sets, flasks, ties, swiss army knives, money clips, and cigars. Make each gift unique or give everyone the same thing (with a little something extra or distinct for the best man). Depending on the cost involved in attending the wedding, you could offer to pay for the formal wear rental or help with accommodations. Present the gifts whenever the guys get to hang out or at the rehearsal dinner.
Officiants: Most officiants now have a fee, unless they are family, and the groom is responsible for taking care of it. In addition to paying them, you should recognize them on the program and include them in other aspects of the wedding. Invite them to the reception, the rehearsal dinner and any other events you feel are appropriate. If they are traveling a distance to be with you, you should also pay for their travel expenses, including accommodations and flight if applicable.
Shower/Party Hostesses
It is standard practice to present each host or hostess with a small token of your appreciation for hosting a party in your honor. Fit the gift to the party and the host/hostess. You can always bring something special that they could use for the party, such as flowers or a nice plant. Make sure you are at the party early so you can help greet the guests; be sure to send them a thank-you note after.
Vendors
Hendry encourages brides and grooms to tip all vendors, but if the budget is tight, she advises tipping "those who have gone the extra mile." Most vendors do not expect tips, unless specified in their contracts. But they are a nice bonus for a job well done. If you are not sure who to tip and how much, ask your wedding planner or reception manager, or consult your wedding resource materials for guidance. Most importantly, assign someone to be the check deliverer and tip disseminator that night so you don't have to worry about it.


Photographs by David Wright Photography