FSSD Announces Teacher of The Year
On Tuesday morning, Liberty Elementary School teacher Marnie Cotton was surprised by FSSD Director of Schools David Snowden, who was carrying a bouquet of balloons and an important announcement. Dr. Snowden announced to the surprised teacher and her class of second graders that she has been chosen to represent the school district as the FSSD Teacher of the Year.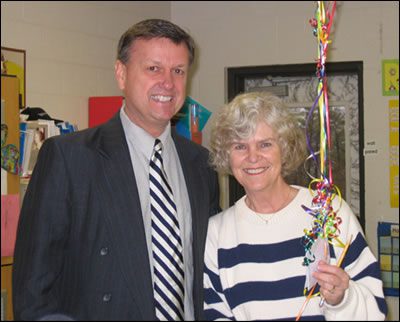 An 18-year veteran, Marnie Cotton is a beloved teacher, involved community volunteer, and dedicated parent. She has taught at Liberty Elementary School since its inception in 1990, when she began as a third-grade teacher. She has spent the past three years, however, teaching second-grade. Prior to her time in Franklin, she spent one year teaching in the Minneapolis Metropolitan School System.
In addition to spending her full day teaching, Mrs. Cotton has been an avid supporter of the school district, volunteering for many leadership roles:
• She serves as a cooperating teacher for five student-teachers and interns from three local universities;
• She is a member of her school's Building Leadership Team;
• She is Chairman of the Liberty Elementary School Improvement Plan Committee;
• She sits on the Director of Schools' Teacher Advisory Committee;
• She chairs the current Textbook Adoption Committee; and
• She was a presenter at the Tennessee Reading Association Convention;
Mrs. Cotton is also as the Director of the FSSD Young Scholars Institute, a summer program, which she began 20 years ago to offer summer enrichment to FSSD students. The program employs over 100 teachers and serves more than 1,300 students in a two-week time span. As Director of the Young Scholars Institute, she received a Governor's Commendation recognizing her leadership in the summer program.
As a community member, Mrs. Cotton is an advocate for the environment and for those who are in need of help. She and her husband, Gene, were foster parents for 24 years. She currently works with:
• United Way,
• Center for Living and Learning;
• United Methodist Women's Program;
• Room in the Inn, a program that provides shelter for the homeless;
• Prison Ministry
• Manna, a Nashville Hunger Coalition;
• Habitat for Humanity;
• WAVES; and
• Nicaragua Project, a community to community service program
As a steward of the environment, she also volunteers her time and talents to the Harpeth River Watershed Association.
She received her Bachelor's degree in elementary education with a minor is speech and theater from the University of Minnesota. She received a Master's degree in elementary education from Tennessee State University. She was also chosen to participate in the first group of teachers to receive graduate credit as part of the English Language Learner training program designed by the FSSD. She is a member of the National Education Association and its state affiliate, the TEA, and the Association for Supervision and Curriculum Development (ASCD).
FSSD Building-Level Teachers of the Year Selected
Mrs. Cotton was selected as FSSD Teacher of the Year from a talented and well-respected group of educators who were elected to represent their individual schools as Teachers of the Year. They are:
Janet Carroll:  Johnson Elementary School, 4th Grade
Hillary Chambers:  Poplar Grove School (5-8), 8th Grade Special Education
Marnie Cotton:  Liberty Elementary School, 2nd Grade
Karie Hickman:  Freedom Intermediate School, 6th Grade
Linda Owens: Freedom Middle School, Art
Heather Saxton:  Moore Elementary School, 3rd Grade
Aimee Servais:  Franklin Elementary School, 1st Grade
Starr Stovall:  Poplar Grove School (K-4), 2nd Grade