Franklin's Got It Going On!
Franklin offers movies in the park, concerts in the park, summer sports leagues, and more!
The Parks Department is committed to improve, preserve, protect and maintain the City of Franklin's parks and public historical sites as a safe and enjoyable enhancement to the quality of life for all residents and visitors.
The goal of the Franklin Parks Department is to provide a diverse and high-quality system of parks, recreation facilities and public open spaces that will meet the recreation and leisure needs of the residents and visitors populations and that will protect and enhance the environmental character of the City of Franklin.
Contact us:
Administrative Office: 705 Boyd Mill Ave., (located at Jim Warren Park)
Administration Hours: Monday – Friday, 7 a.m. – 4 p.m.
Phone: (615)794-2103
Fax: (615) 791-3250
Lisa Clayton, Director
Sam Overstreet, Assist. Director
Sandy Logan, Admin. Assistant
Anna Shuford, Program Coordinator
Bryan Burrell, Athletic Foreman
Concerts in the Park 
Aspen Grove Park presents Concerts in the Park. Aspen Grove Park is located on Aspen Grove Drive, off of Cool Springs Boulevard. Musical entertainment will be provided by local artists and musicians. The concerts are free and family-oriented. Each concert will begin at 6:30 PM and end at 8:00 PM. The schedule is listed below. For additional information, please call (615) 794-2103.
June 24 – Blues & Jazz
July 29 – Kid's Night
Aug. 26 – Teen's Rock
Sept. 23 – Christian Review
Jim Warren Skate Plaza – Skate Park Development and Construction
Click here to go to the developer's website (www.sitedesigngroup.com) to see the progress of development and construction.
Once at the website, click on 'log in' in the upper right corner and type 'franklin' for User Name: and 'plaza' for password: to access the Franklin Skate Park page. Completion is anticipated for August 2006. The Plaza will be open to in-line skaters and skateboarders from dawn until dusk.
Youth Sports Leagues
Franklin Baseball Club
615-573-6465
www.fbcleagues.com
Franklin Cowboys Assoc.
615-641-6632
www.franklincowboys.org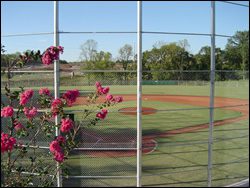 Liberty Park
Liberty Park is an 84.6-acre active park on Turning Wheel Road (off Liberty Pike). Three tournament play baseball fields, concession stand and restrooms have been completed as a part of Phase I. The Parks Department and Franklin Baseball Club host organized recreational baseball games and tournaments in the spring, summer and fall each year. Included in the Master Plan for Phase II are tennis courts, pavilions, restrooms, disc golf, a skate park, hiking/biking trails and a covered amphitheater with natural terrain/slopped seating for approximately 400. Projected completion for Phase II is 2009.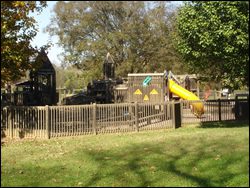 Pinkerton Park
Pinkerton Park is located on Murfreesboro Road and is the most highly used passive park in the park system. The Harpeth River is along the west side of the park while Fort Granger lies to the north. Adjacent to the parking area is Tinkerbell playground. Additional playground equipment is located near the pavilions. The park also provides three picnic pavilions with a total of 14 tables. There are nine other picnic tables and grills strategically placed throughout the park. A one-mile paved pedestrian track encompasses the entire park. Lighting along the track allows for extended hours. The Sue Douglas Berry Memorial pedestrian bridge connects the downtown area with Pinkerton Park. Pavilions are available on a first come-first serve basis. (the Parks Dept. does recommend call our office for an update on upcoming special events in this park).
Fort Granger
Fort Granger is located behind Pinkerton Park; a walking trail leads to an overlook of the south part of the City. Surrounding the perimeter of the site are trenches dug by Civil War Troops. Various locations along the south and southwest hillside provide spectacular views of Franklin.
Fieldstone Park
Fieldstone Softball Complex is located on Hillsboro Road. The facility consists of four softball fields, a concession stand, and restrooms. The Williamson County Parks & Recreation Department coordinates the softball programs at the Complex. The park also provides two picnic pavilions with large grills and a playground area near the pavilions. Pavilions are available on a first come-first serve basis.
Winstead Hill
Winstead Hill Park is located South of downtown Franklin on Columbia Highway and consists of 61 acres with a walking trail, parking area, and restrooms facilities. Winstead Hill Park has open spaces with tranquil wooded areas and is open from dawn to dusk.
Jim Warren Park
Jim Warren Park is a 58-acre active park located at 705 Boyd Mill Avenue. Home of the Franklin Baseball Club and Franklin Cowboys youth organizations, Jim Warren Park has 12 baseball fields and 4 football fields. Among the many amenities are tennis courts, two basketball courts, picnic tables and grills, a pond, walking trails and playground equipment. A large enclosed pavilion may be reserved by calling the park's office.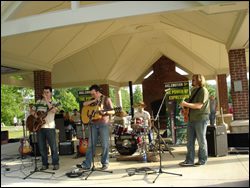 Aspen Grove Park
Aspen Grove Park is located in the Cool Springs area on Aspen Grove Blvd., the park contains a half-mile, paved trail that loops around the park and along Spencer Creek. Restroom facilities and a pavilion with a built-in barbecue pit are located on-site. The pavilion may be reserved by calling the Parks Dept. at 794-2103. Aspen Grove Park was a joint project between the City of Franklin, the Cool Springs Rotary Club, and Duke Realty Corporation.
Del Rio Park
In 2002, the Board of Mayor and Aldermen approved the property acquisition for Del Rio Park in the Rogersshire Subdivision, off Del Rio Pike. The Parks Department plans to implement amenities such as a gazebo, benches, and trash receptacles in the 2003 fiscal year. A playground and picnic table with grill grace this small neighborhood passive pocket park.
Events In The Park
Movies by Moonlight, Concerts in the Park, Family Day and Arbor Day are just a few of the many Special Events hosted by the Parks Dept. throughout the year in various parks. Local organizations wishing to hold an event in the park system should submit their request 90 days prior to the date of the event. If you anticipate your event would draw a crowd of 200 or more (including the event participants/coordinators) contact Monique McCullough, Community Relations Manager for the City of Franklin, at 791-3217. Anna Shuford, Program Coordinator for the City Parks Dept. 794-2103 is the contact for any event drawing a crowd less than 200.
Organized Athletics
Each year over 1,700 children participate in baseball,. Football and cheerleading. For more information on youth recreational sports contact: Franklin Baseball Club at (615) 573-6465 or Franklin Cowboys Association (football and cheerleading) at (615) 641-6632.
Park Resources
The Franklin Parks Department is committed to providing safe and welcoming opportunities for recreation, education, and relaxation. Our parks, including ball fields and park play areas, are busy hubs of activity in all seasons of the year, serving thousands of residents and visitors. One measure of how well we take care of existing resources is the cleanliness of the facilities. Please report unsightly conditions, vandalism or misuse of our parks directly to the parks dept. We appreciate your partnership in being good stewards of the parks.