Franklin Wine Festival "King and Queen of the Vines" Royal Court Announced
NASHVILLE, TN – The 2017 Franklin Wine Festival's King and Queen of the Vines royal court has been revealed. Candidates on the royal court have pledged to raise funds for mentoring through Big Brothers Big Sisters of Middle Tennessee. Each dollar raised in their fundraising period will count as one "vote." This year, candidates vying for the crowns are engaged in a fierce fundraising competition with the goal of surpassing previous record-setting efforts.
The Franklin Wine Festival celebrates its thirteenth year in 2017, and has raised more than $1.6 million to date. The King and Queen of the Vines competition is entering its seventh year, and has raised more than $90,000 in total.
The 2017 Franklin Wine Festival Kings and Queens of the Vines royal court include: Andrew Bailey, John Bell, Christie Bowling, Leslie Glass, Harris Haworth, and Jessica Hopkins.
Andrew Bailey is a third generation native Nashvillian who grew up in West Nashville. He attended MTSU and worked for several years in the music business, but decided to take a leap of faith recently and turn his love of all things Jeep into a business. His new venture, AB Designs, restores and customizes Jeeps of all varieties. He has had the opportunity to mentor several young men sharing his trade skills and knowledge, and looks forward to fundraising so that other youth in need of a positive role model can experience that as well.
John Bell is a second generation native Nashvillian who is an attorney with Bell Law Settlement Services. He has three grown sons and is very excited about our city's future. He believes supporting mentoring is one of the best ways to ensure our continued success for Middle Tennessee. He enjoys live music and catches as many shows as he can in downtown Nashville.
Christie Bowling is originally from Madisonville, Kentucky and proud to now call Nashville home. She is a registered dietitian nutritionist certified in both Sports Dietetics and Adult Weight Management. Christie owns Prime Wellness and is director of nutrition for Cura based out of California. She was previously the first dietitian ever hired to work for Disney in their private clinic, and enjoys travel and great wine.
Leslie Glass is a third generation native Nashvillian and owner of Loxx Hair Studio in Brentwood and a Realtor with EXIT Real Estate Solutions. She is passionate about mentoring and has worked with the youth of Cornerstone Church for five years. She enjoys yoga, hiking, kayaking, and cooking.
Harris Haworth is a native Nashvillian who lived elsewhere until about four years ago, and he's thrilled to be home. He is the senior brand manager for GOimprints.com and is in the process of becoming a volunteer Big Brother. He also serves on the agency's newly formed Jr Board of Directors and is an avid fan of his alma mater, the University of Tennessee.
Jessica Hopkins was born in Decatur, Georgia and raised in Maryville, Tennessee. She serves as the senior manager of medication management for Lifepoint Hospitals in Brentwood. She was drawn to this competition for Big Brothers Big Sisters because she mentored a young girl when she lived in Atlanta and saw many positive changes as a result.
"This Kings and Queens of the Vines fundraising competition will have a near immediate impact in the lives of children in our own community. It takes $1,500 to match a child with a mentor for one year. And it only takes one mentor to change a child's life for the better," commented Wendy Dyes, 2017 Kings and Queens of the Vines Committee Chair for the Franklin Wine Festival. "This year the candidates have such a great competitive spirit. They are going all out to raise funds for Big Brothers Big Sisters of Middle Tennessee, and of course to win the bragging rights that come along with being crowned King or Queen of the Vines."
An official royal court announcement party will be held on Wednesday, August 16 at 5:30 p.m. at Up – a rooftop lounge in the Gulch. Candidates will be available for a meet-and-greet and celebrate their efforts in this unique fundraising competition. Tickets for the King and Queen of the Vines announcement party are $20 and can be purchased in advance at www.FranklinWineFestival.com.
The candidates will also be hosting a new Downtown Nashville Scavenger Hunt as part of this year's efforts on Saturday, September 16, 2017, beginning at Cerveza Jack's Nashville at 11 a.m. and concluding at the George Jones Museum at 2 p.m. Registration for that event is available at www.scavengerhunt.kintera.org.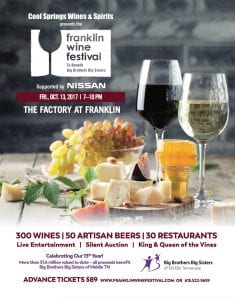 The ultimate coronation of each respective King and Queen will happen during a live ceremony at the Franklin Wine Festival Grand Tasting on Friday October 13, 2017 at the Factory at Franklin. The event is presented by Cool Springs Wines and Spirits and supported by Nissan.
The Franklin Wine Festival features more than 300 wines, samples from Middle Tennessee's best restaurants, an artisan Biergarten, a silent auction, and live entertainment on multiple stages. Tickets for the October 13 Grand Tasting, which will include the crowning of the new King and Queen, are available at www.FranklinWineFestival.com.
The funds raised by the Franklin Wine Festival events will be used to serve more children in Middle Tennessee with a mentor through Big Brothers Big Sisters programs. Children with a mentor make better, safer choices in life which in turn reduces crime, improves graduation rates, and lays the groundwork for an overall economic benefit to the Middle Tennessee community.
For more information about the 2017 King and Queen of the Vines Royal Court, visit www.FranklinWineFestival.com.
About Big Brothers Big Sisters of Middle Tennessee
Big Brothers Big Sisters' mission is to provide children facing adversity with strong and enduring, professionally supported one-to-one relationships that change their lives for the better, forever. Founded locally in 1969, Big Brothers Big Sisters of Middle Tennessee is a volunteer and donor driven organization that matches children in need with a positive adult role model. Revenue generated is used to conduct background checks and screening of prospective volunteers to ensure child safety and provide ongoing professional support for children, families and volunteers to build and sustain long-lasting relationships. Big Brothers Big Sisters of Middle Tennessee serves children across Middle Tennessee in Metro Nashville/Davidson County, Williamson, Rutherford, Cheatham, Dickson, Robertson, Sumner and Wilson counties. You can help a child overcome adversity and better position themselves to reach their potential in Middle Tennessee by visiting www.mentorakid.org or calling 615-329-9191.
Press Contacts:
Sarah Beatty | 615.522.5659 | sarah.beatty@mentorakid.org
Katie Adkisson | 615.828.7351 | Katie@reedpublicrelations.com