Franklin Classic
Get ready to run, walk or cheer at the 29th Annual Franklin Classic on Monday, September 3, presented by BancorpSouth, Concentra Network Services and Darrel Waltrip Honda Volvo. This race is the "second largest race in Middle Tennessee" said Race Director, Kortland Fuqua, and is a great way to help support Mercy Children's Clinic. "Mercy Children's Clinic, is a Franklin-based non-profit organization that provides primary pediatric healthcare to children from all socio-economic backgrounds including children without health insurance or enrolled in TennCare."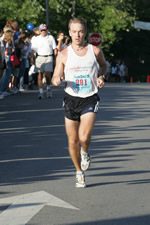 This race appeals to ALL- novice to experts as there are a variety of events to choose from including a 5K or 10K Competitive Race, 4K Community Walk or a 1K Kids Kilometer. Fuqua is most excited about the Kids Kilometer, a personal favorite, and recalls how great it is to see all the kids out there running, walking and sometimes being carried by their parents. He adds "everyone gets a ribbon no matter whether first or last." The 4K Community Walk has a unique educational component as participants get a historical program that teaches them about historical sites they will pass on their route.

Like last year, all races will begin and end in Historic Downtown Franklin's Square and will coincide with the Jazz Festival providing music by "Heritage Dixieland Band" at the start line and the "Scat Springs Band" at the finish. There will be a Kid's Zone with moonwalk, climbing wall, inflatable slide, face painting, balloons, ice-pops, and the fire and police department vehicles.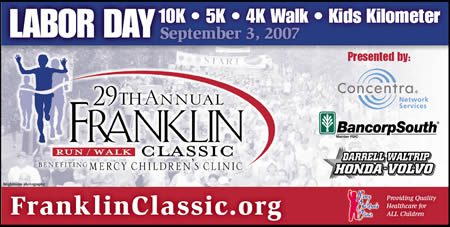 The 5K starts at 7 a.m., 10K at 7:30 a.m., 4K Community Walk at 8:30 a.m. and Kid's Kilometer Fun Run at 9:30 a.m. You can register online at www.franklinclassic.org/, by mail (forms available on the website), or in person Friday, August 31 or Saturday, September 1, at the Cool Springs YMCA from 2 p.m.-6 p.m., Sunday at the Jazz Festival, and lastly the morning of the race starting at 5:45 a.m. For more information including registration fees, deadlines and race routes visit www.FranklinClassic.org.