Franklin Classic a Success
With more than 3,000 participants in four events, the 28th Annual Franklin Classic was a successful event!
For the serious runners, the 5K and 10K courses proved to be both exciting and challenging. Many families enjoyed the 4K Walk together and the 1K Kid's Fun Run was a sight to see with more than 300 children running in the streets with safety and security provided by the Franklin Police Department. Mixing the festivities with the Franklin Jazz Festival also helped to provide a festive atmosphere as a brass band brought all the participants across the finish line with some live jazz music.
A move to the downtown square this year also provided a new feel to the event as well as new routes. It was a welcomed addition as many participants commented on how they enjoyed leaving from and returning to the square. The change in routes also allowed for a new schedule allowing some participants to be active in more than one event, with some participants running in the 5K and then walking in the walk and others running in both the 5 and 10 K. Combining with the Franklin Jazz Festival also provided live jazz music to end the event as the festival continued on into the night.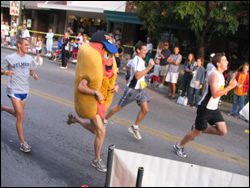 The event was also a success for Mercy Children's Clinic as the proceeds from the race will help to provide quality healthcare to children from 24 surrounding counties. As the largest single fundraiser for the clinic, the Franklin Classic is a great way to involve the larger community of Franklin.
The community really embraces the Classic from those cheering the runners on while they run through the routes and across the finish line, to the sponsors and businesses that partner with Mercy Children's Clinic to help make it a success. A big thank you from the Clinic is being extended to all that were involved from the participants to the sponsors, to the community.