Four Easy Fall Pest Prevention Tips
For many, there's no denying our affinity for fall cited by cozy sweaters, outdoor fires and baked goods. But just as we're beginning to enjoy crisp mornings, colorful leaves and pumpkin spice, in come the pests. Reclaim your home and help keep your property pest-free all season long with these four pest prevention tips from All-American Pest Control.
Eliminate Pest Harborage
We understand life is messy sometimes—a clear sign that we're living it! All insects need food, water and shelter to survive, and excess clutter is just one of the ways to develop a pest issue. Attics, basements and garages are a few areas of your home that provide a safe place for pests to eat, nest and reproduce relatively undisturbed. Reducing clutter, storing dried foods in air-tight containers and cleaning up drips and spills assist with preventing pest problems.
Fall Pest Pro Tip: Late-season yellow jacket wasps are "hangry" for carbohydrates. As the supply of fruit and flower nectar becomes naturally limited at the end of the growing season, they turn to humans for their sugar fix. During outdoor gatherings, keep food and beverages covered as much as possible, promptly clean up spills and leftovers and place tightly covered trash receptacles away from eating areas. When face to face with a pesky, sugar-hunting wasps, limit the threat of a sting by resisting the urge to swat, slap or run away.
Evaluate Entry Points
Whether your home is old, new or new to you, chances are it has a few gaps, cracks and openings. Pests looking to escape cooler temperatures will find any opportunity to enter your home through the smallest of cavities. The good news is, with a trained eye, many pest entry points can be located and easily fixed with minimal expense.
To start, thoroughly inspect the exterior of your home for damage or access points that could provide pests a way inside. Pay special attention to electrical conduit, air-conditioning lines and other piping and wires leading to and from your property. Seal minor openings (1/2 inch or less) with caulk. For larger gaps, you may want to use expanding foam. When rodent pests are concerned, consider using a combination of expanding foam and copper wire mesh to achieve a "chew resistant" barrier.
Next, check all your window and door screens. Replace or repair any that have been damaged or torn. Do the same for weather stripping, door sweeps and chimney caps.
Finally, do your best to keep windows and doors shut as much as possible. This is one of the simplest and best ways to avoid pest problems.

Eradicate Conditions Favorable to Pests
Pests are drawn to food, moisture and shelter in and around your home. Consider the following tips in your quest to prevent mainstay pests from invading your Tennessee home this fall:
Channel rainwater away from gutters and downspouts so that it does not pool or cause excess moisture near your home's foundation
Inspect interior and exterior fixtures for leaks, paying special attention to outdoor spigots and air-conditioning systems
Keep your lawn well maintained and trim bushes, shrubs and other plants, so they do not provide "pest bridges" between the soil and your home
Do not feed pets outdoors, clean up after pets eat and remove feed bowls from floors and other surfaces between meals
Store leftover foods inside air-tight containers after every meal
Ensure trashcans have tight-fitting, pest-proof lids
Empty your trash frequently and rinse food and drink items thoroughly before placing them into recycling bins
Screen less obvious pest entry points such as attic vents, chimney caps, crawl space vents and pet doors
Clean up promptly and thoroughly after outdoor gatherings
Turn off exterior lights before going to bed at night
Invest In Quality Pest Control Services
At All-American Pest Control, we understand safeguarding your family and your home from pests is a challenging task all its own. We've been serving families for 60 years, and we remain committed to making pest control easy and affordable for all homeowners with our built-to-fit plans! Let our knowledgeable, friendly and professional team help you choose the proper pest control for your Tennessee home. Learn more here.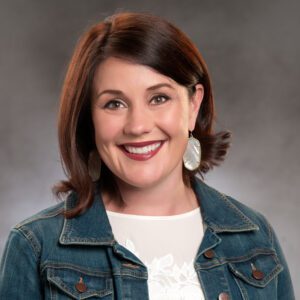 Erin Richardson is the first female president, CEO and owner of a third-generation business—All-American Pest Control. Since buying the business in 2012, Erin has implemented a 4-day work week and a variety of strategic bets that fueled the company's growth and reputation. A member of Tennessee Pest Control Association and National Pest Management Association, she is active in her industry at state and national levels and has grown her family business to PCT Magazine's Top 100 List—the top 100 largest pest control companies in the nation—and has appeared on the Inc. 5000 list in 2019, 2020 and 2021.