FiftyForward Martin Center Card Crusaders mark ten years and celebrate by delivering greeting cards to sell in the Frist Art Museum gift shop
Nashville, Tenn. — After a long year plus of staying at home and fighting COVID, the FiftyForward Martin Center Card Crusaders are celebrating some good news. The greeting card gals are now marking ten years of crafting their artful iris-paper folded greeting cards and late last week they dropped off greeting cards to be sold in the gift shop of the First Art Museum.
The eldest member of the group and founder, Marilyn Nevens (96), lead the women in their outreach efforts at the Frist. She emphasized during the visit that throughout 2020 the Crusaders they were deliberate in finding ways to build their beautiful Iris folded cards not only to keep their social business alive but to also stay safe and sane during the pandemic. The women revisited their plan and reworked their logistics to still meet deadlines and outcomes 
"We are delighted and proud to offer the wonderful iris-folded cards from the FiftyForward Martin Center 'Card Crusaders' in our gift shop. With designs inspired by the natural world, they have been a popular addition to our gift shop and an excellent way for the Frist Art Museum and our guests to support our sister nonprofit FiftyForward," said Jon Emmitt, Frist Art Museum Gift Shop Manager.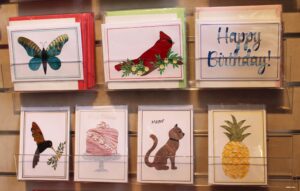 Following a happy and loving marriage of almost 58 years, Marilyn Nevens suddenly became a widow. Devasted by the loss she later found her new home, new friends, and a new beginning at FiftyForward Martin Center.
Nevens, now 96, recalls, "We went through World War II together. I as a wife and mother, Norbert as a 3½ year Marine in naval aviation. We worked hard and raised four children and once we retired, we travelled, always enjoying each other's companionship. Then suddenly one day I became a widow. I thought my world had ended."
A friend of Neven's heard about FiftyForward Martin Center, and the duo joined the center in Brentwood together.  Looking back, Nevins said, it was one of the most important decisions she could have made. The center gave her a reason to re-enter life. Instead of staying home all the time, she forced herself to shower, dress, and walk out the door. She no longer felt all alone.
She recounts, "It [joining the center] was the best thing I ever did. If laughter contributes to longevity, we've all added quite a few years to our lives. Every night in my prayers, I thank the good Lord for the gift of friendship." This August all FiftyForward centers will offer a free guest day pass for anyone wanting to visit a center to check out a program or class. Contact the center nearest you for details.
Nevens became a center member and regularly volunteered at the reception desk. She served on the welcoming committee and helped with other odd tasks as needed. Little did she know that her greatest love and passion would be to raise funds to purchase a new vehicle for the center.
It all started with an Iris paper folding class taught by Judy Chilton, another center member who loved the arts and who had an interest in teaching others. Nevens recalls not wanting Judy to stop the card-making class because it was so fun, and the center members were producing wonderful works of art.  The card making lead the woman to become entrepreneurs of sorts, launching what is now known as the Card Crusaders, a group of card collaborators who handcraft beautiful works of art.
Today the Card Crusaders is a collective of roughly 18 members who affectionately refer to one another as "gals." Their Iris patterns have grown from 9 to more than 90. To date, the best-selling greeting card is their stunning bright red cardinal which they make with or without embellishments for holidays and regular inventory.
Neven shares that she and her gals find great satisfaction in what they do. They are proud of their finished product. In addition, Nevens says, "We find great companionship in that room. A lot of us are widows and are alone. The incentive is to get out and brighten our day."  She adds, "None of our goals would have been possible if it were not for these dedicated and talented women."
Card Crusaders have raised more than $26,000 for their beloved center. Over the years, they have purchased a van, paid for new ottomans in the center, purchased a 72-inch television, resurfaced game tables and bought new chairs for the tables, as well as adding some upgrades to the parking lot.
Clientele for the cards varies from individuals to corporate buyers. With custom designs and cards for all occasion, the FiftyForward Martin Center Card Crusaders have done work for businesses ranging from Merrill Lynch to Cigna. The beautiful cards have been sold at the Nashville International Airport as well as the Nashville and Chattanooga Zoos. The Card Crusaders are so excited to have their cards now available in the Frist Art Museum gift shop.
Each card, lovingly handcrafted and a work of art, is worthy of framing. These social entrepreneurs are making things happen for their center and community. Learn more at https://fiftyforward.org/locations/martin-center/greeting-cards/.

About FiftyForward
Established in 1956, FiftyForward supports, champions, and enhances life for those 50 and older. As a nonprofit serving Middle Tennessee, FiftyForward operates seven lifelong learning centers – two in William­son County and five in Davidson County –offering classes including health and wellness, arts, technology, virtual programming, and engaging volunteer opportunities. FiftyForward also provides comprehensive supportive care for older adults including essential services such as FiftyForward Adult Day Services, FiftyForward Fresh/Meals on Wheels, and care management. Learn more from our stories and those we serve at www.fiftyforward.organd by following us @FiftyForward on Facebook, Instagram, Twitter, and LinkedIn.
# # #