Looking for things to do, events in Franklin, Brentwood or Williamson County.  Maybe fun things for the family, kid events, date night or activities near you.  Check out our calendar of events below.

The Alzheimer's Association TN Chapter Annual Free Virtual Caregiver Conference
November 9, 2021 @ 10:00 am

-

November 10, 2021 @ 6:00 pm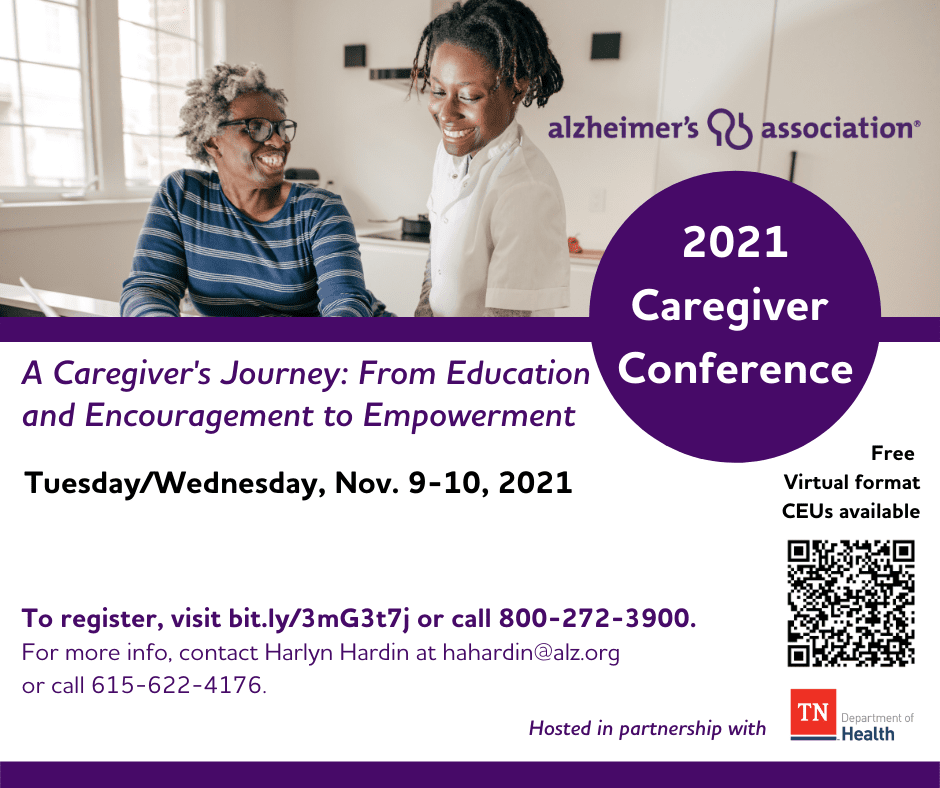 The Alzheimer's Association TN Chapter offers annual free virtual Caregiver Conference to educate and support those living with and caring for those with Alzheimer's
The Tennessee Chapter of the Alzheimer's Association will be offering its popular Caregiver Conference: "A Caregiver's Journey: From education and encouragement to empowerment, Tuesday and Wednesday, Nov. 9-10, 2021." This year's conference will feature six separate presentations ranging from understanding the diagnosis of Alzheimer's and dementia, care planning, communication strategies, and partnering with faith-based communities to address dementia-related health disparities.
Because of the continuing COVID-19 pandemic, this free conference will be virtual again this year. The conference will also offer continuing education units (CEUs) for those wanting to further their knowledge.
To register, visit bit.ly/3mG3t7j or call 1-800-272-3900. For further questions, contact Harlyn Hardin at hahardin@alz.org; 615-622-4176. For more information about the Alzheimer's Association, visit alz.org.
In addition, the conference will offer a Caregiver Resource Panel of experts ranging from elder law, medical and non-medical home health, and long-term care planning. The participating panel of experts include: Tennessee Department of Health, Elder Law of Nashville, Meritan, Senior Lifestyle, and the Southeast Tennessee Area Agency on Aging and Disability.
This conference is hosted in partnership with the Tennessee Department of Health.
Additional programming
In addition to this two-day caregiver conference, The Alzheimer's Association TN Chapter will also host its bi-annual Research Symposium on November 16, 2-3 p.m. This one-hour presentation will feature Dr. Percy Griffin, Alzheimer's Association director of scientific engagement. Percy holds a Ph.D. in molecular cell biology from Washington University in St. Louis, a Master of Science degree in pharmacology from the University of Minnesota Medical School and a Bachelor of Arts degree in biology and chemistry from Macalester College in St. Paul, Minnesota. In his role at the agency, he creates and delivers inspiring and stimulating research updates around the country to regional and chapter community directed audiences.
Topics to be covered include current trends in Alzheimer's and dementia research with emphasis on risk reduction and treatment; social determinants of health and how it affects risk; and how the Alzheimer's Association addresses health disparities with a focus on equity and diversity/social inclusion in research trials.
To register for this year's Research Symposium, visit https://bit.ly/3C2lFhQ
# # #
About Alzheimer's Association®
The Alzheimer's Association is a worldwide voluntary health organization dedicated to Alzheimer's care, support and research. Our mission is to lead the way to end Alzheimer's and all other dementia — by accelerating global research, driving risk reduction and early detection, and maximizing quality care and support. Our vision is a world without Alzheimer's and all other dementia®. Visit alz.org or call 800.272.3900.