Looking for things to do, events in Franklin, Brentwood or Williamson County.  Maybe fun things for the family, kid events, date night or activities near you.  Check out our calendar of events below.


A TENNESSEE WEEKEND – AMY GRANT – Rescheduled
October 2 @ 5:00 pm

-

October 4 @ 1:00 pm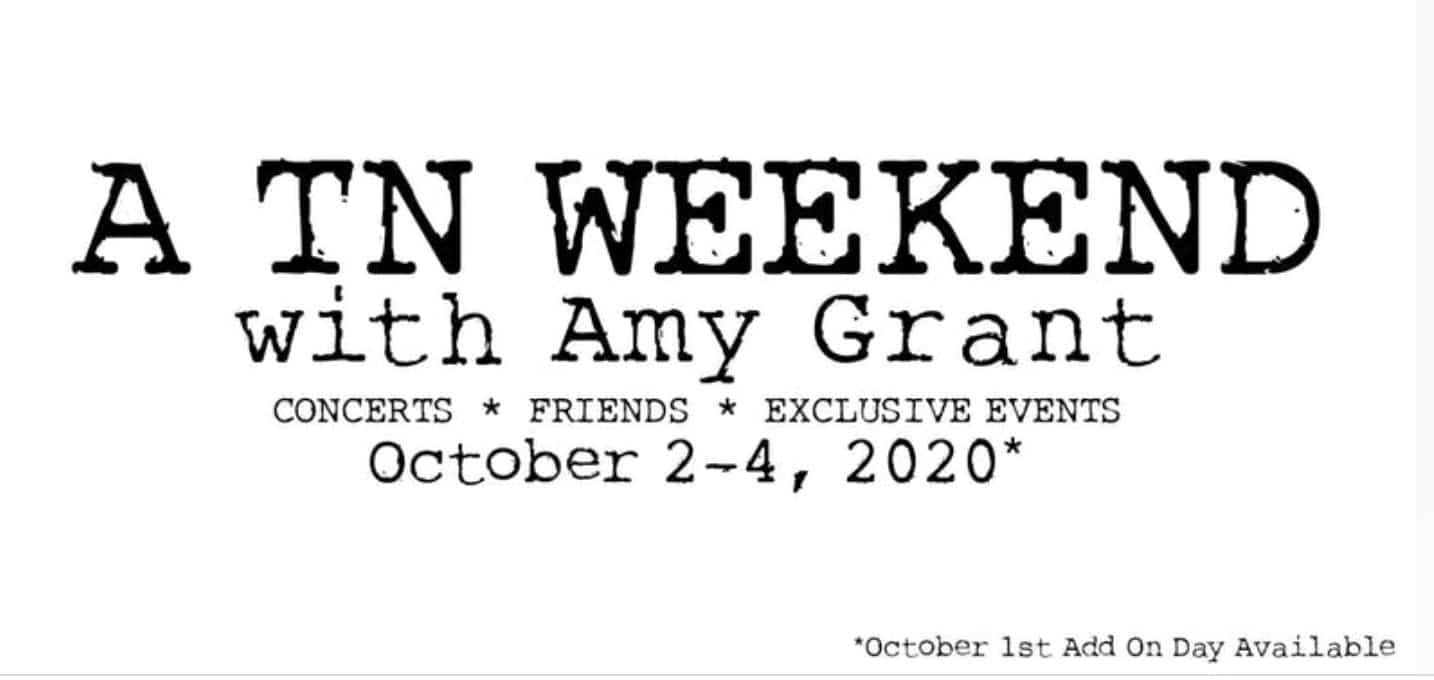 Event formerly schedule for October 2-4, 2020 has been rescheduled to October 1-3, 2021. 
Please CLICK HERE for information on the 2021 event.
_______________________________________
A TENNESSEE WEEKEND with AMY GRANT 
by AG TOURS
INC
Amy Grant is inviting all of her friends BACK for a very special TENNESSEE WEEKEND October 2-4, 2020.
About this Event
Amy Grant is inviting all of her friends BACK for a very special TENNESSEE WEEKEND October 2-4, 2020.
The weekend will be full of concerts, activities, and fun like only Amy and her friends can create.
YOUR ATTENDANCE AT THIS EVENT WILL MAKE A DIFFERENCE IN THE LIVES OF PEOPLE SERVED BY SEVERAL NON-PROFITS THAT AMY IS ABLE TO DONATE USE OF HER FARM TO THROUGHOUT EVERY YEAR. 100% OF PROCEEDS RAISED THROUGH THIS EVENT WILL BE INVESTED INTO MAKING AMY'S FARM MORE ACCESSIBLE TO VARIOUS NON-PROFITS THROUGHOUT NASHVILLE – WE LOOK FORWARD TO TELLING YOU MORE ABOUT EVERYTHING THAT IS HAPPENING AT THE FARM WHEN YOU GET HERE!
Current Schedule and Details (subject to change – full weekend pass required to attend any / all sessions):
FRIDAY, OCTOBER 2 (all activities at Jamison Hall in The Factory; Franklin, TN):
2 to 5 pm: Check in at The Factory's Jamison Hall.
3 to 5 pm: Photos with Amy (Group 1)
6 to 7 pm: Doors Open to Jamison Hall / Mix & Mingle with Appetizers
7 pm to ???: Concert with Amy Grant & Band
Late Night (following concert): Club Amy (D.J. spinning dance and club versions of Amy's biggest hits mixed with other favorites as Amy, guests, and friends enjoy each other's company)
SATURDAY, OCTOBER 3:
10 am to 10 pm: The Day (and evening) at Amy's Farm.
ABOUT THE DAY AT THE FARM: We are going to call this day BAREFOOT AT THE FARM as most of the activities (other than the music and food) are going to be brought to you by Amy's friends BAREFOOT REPUBLIC. Amy hosts several weekends at her farm for various non-profits every year so we want you to experience the types of fun and activities that the kids and attendees get to do at her farm. Guests are responsible for their own transportation to the farm (Farm address and admittance instructions will be sent to ticket holders in August 2020).
FOOD AT THE FARM: Lunch and dinner will be served picnic style and we will have options for most dietary needs – all food and standard beverages are included (guests who have specific dietary concerns may need to bring meal alternatives).
MUSIC AT THE FARM: Amy will host music and friends throughout the day at her farm and will end the night with a very special "Songwriters Round" the likes that can only happen in Nashville.
SUNDAY, OCTOBER 4 (all activities at Jamison Hall in The Factory; Franklin, TN):
8 am to 10 am: Photos with Amy (Second Half)
10:30 am to 12 pm: Sunday with Amy
12:30 pm: Event Ends
====================================================
SPECIAL ADD-ON DAY: THURSDAY, OCTOBER 1: WORKDAY WITH AMY
(Workday passes are now sold out)
====================================================
DO YOU WANT TO ATTEND THE WEEKEND FOR FREE?
HAVE YOU EVER RUN A HALF MARATHON or 5K?
ARE YOU A RUNNER? (No… You can walk the races too)…
For the last 5+ years Amy has hosted a few weeks of BAREFOOT REPUBLIC CAMP at her farm. It's a summer camp program that focuses on cultivating Christ-centered relationships between individuals and families from diverse racial, cultural, and socioeconomic backgrounds. Every year Amy hosts BAREFOOT AT THE FARM and we want more and more students to be able to attend, who otherwise couldn't. SOOOOOO… let's do this together!
Last year one of Amy's Team members, Derek, took part in a training program and ran a Half Marathon (prior to that he'd only run/walked some very slow 5ks) and with the help of several Friends-Of-Amy (FOA) members was able to raise over $10,000 toward the Barefoot Republic Scholarship fund – making it possible for over 40 kids to attend BAREFOOT AT THE FARM – who might otherwise not been able.
This year we want to do even more… So… we've decided to make a very special offer. Anyone who wants to participate in the Rock-N-Roll Music City Marathon with our team and can raise a minimum of $1,500 will get a FREE weekend pass.
And the best part is you can do the race anywhere, so even if you can't make it to Nashville to participate with the team, you can do it in your own hometown.
If you are interested please email derek@themwsgroup.com – he will provide you with more details and will explain how this will work.
Fundraising / Training will begin November 1st and we will run on Saturday, April 25th.
Amy will not be able to do the run with us this year, but she is looking forward to cheering on all participants.
The minimum distance for participation on the team will be a 5K (3.1 miles)… Derek will run the half marathon here in Nashville (13.1 miles)… of course marathoners can do the full 26.2 mile course… but we may look at you like you're a little crazy!
Again… email derek@themwsgroup.com to be added to the team.
ALL Persons who successfully complete their fundraising and a race, whether here in Nashville or "virtually" in their hometown will receive an autographed TEAM AMY / RUN BAREFOOT MEDAL (in addition to their TENNESSEE WEEKEND PASS FOR FREE.
====================================================
TERMS & CONDITIONS FOR ALL EVENT PASSES:
Guests are responsible for their own overnight accommodations and all of their own local transportation to all points during the TENNESSEE WEEKEND with AMY GRANT event (October 2-4, 2020).
Persons purchasing a Weekend Pass will need to arrive for check-in to JAMISON HALL at The Factory in Franklin, TN between 3 pm and 6 pm on Friday, October 2, 2020 (230 Franklin Road; Franklin, TN).
Detailed weekend and event instructions will be emailed to all Weekend Pass purchasers by Friday, July 31, 2020.
All guests should plan to arrive for check-in in Franklin, TN on Friday, October 2, 2020 between 3 pm and 6 pm.
The final event will end before 12:30 pm on Sunday, October 4, 2020 (if flying in we don't recommend scheduling an outbound flight before 2:30 pm).
Any questions can be emailed to derek@themwsgroup.com and he will assist you.
Cancellations and Refunds: Once a ticket is purchased there are fees associated with your ticket. Guests needing to cancel a ticket must email derek@themwsgroup.com in order to request.
Refund / Cancellation schedule: Before January 31, 2020 = Refunds up to 75% available; Between February 1, 2020 and May 31, 2020 = Refunds up to 50% available; After June 1st = No Refunds available.
Related Events