Looking for things to do, events in Franklin, Brentwood or Williamson County.  Maybe fun things for the family, kid events, date night or activities near you.  Check out our calendar of events below.


20th Annual Hats Off to High Hopes
January 29, 2018 @ 1:30 pm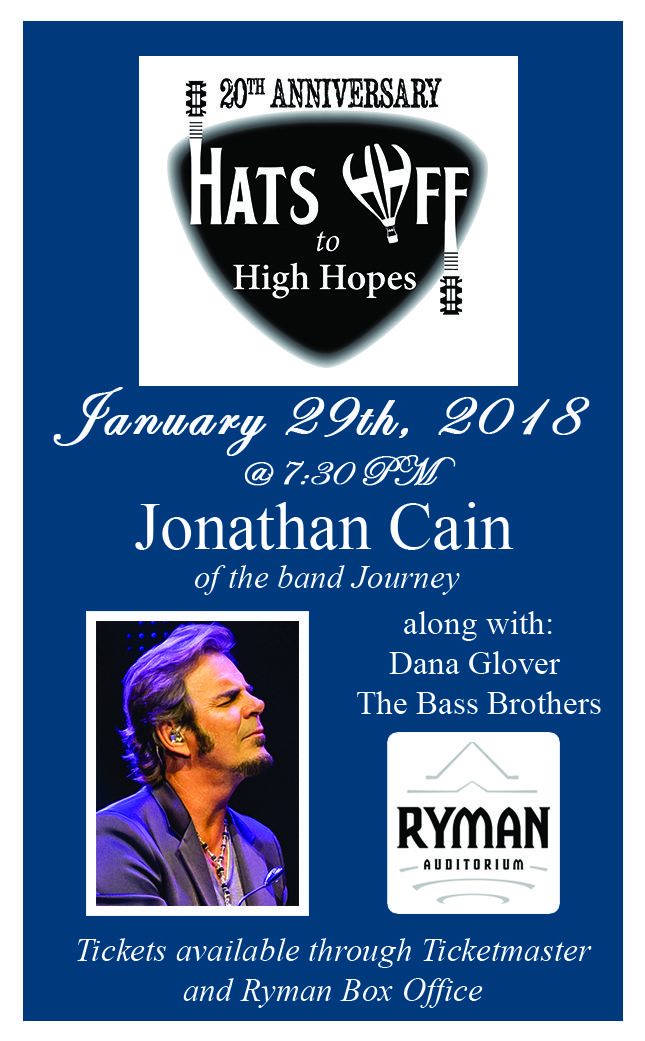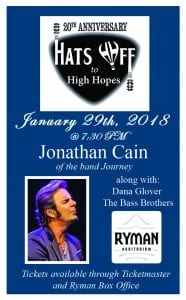 HATS OFF TO HIGH HOPES
Featuring Jonathan Cain, Dana Glover and The Bass Brothers
Jonathan Cain, of the band Journey, Performs at the Historic Ryman Auditorium to Raise Awareness and Funds for Children with Special Needs
Jonathan Cain, of the band Journey, along with Dana Glover and The Bass Brothers, will perform on the stage of the Mother Church for the 20th Annual Hats Off to High Hopes on January 29, 2018 at 7:30pm to raise awareness and funds for High Hopes Development Center, which serves children with special needs and their families. Tickets are on sale now for $29.50, $39.50 and $49.50 at Ticketmaster.com, Ryman.com and the Ryman box office.
The intimate concert, presented by The Speer Foundation and The Hoovers, promises to be a fun-filled evening that helps make hope a reality for more children in Middle Tennessee. Performing artists include the multi-talented Jonathan Cain, of the band Journey, that penned such songs as "Don't Stop Believin'" and "Faithfully," and Dana Glover whose songs have been in top movies such as The Wedding Planner, Shrek, Two Weeks Notice, Laws of Attraction, and others. Also taking the stage will be The Bass Brothers, whose producer, Huff, jokes are the 2017 "British Invasion" of Nashville. They performed pop songs and toured through Europe with Britney Spears, the Backstreet Boys, and The Spice Girls and now the siblings have made a home in Nashville for their country music career.
This special evening is proudly brought to you by The Speer Foundation, Butch & Sonia Hoover, Yellow Truck Worldwide, HCA HealthCare and TriStar Health, Paradigm, Doug and Monna Mayhall, Franklin Synergy Bank, Music Starts Here, and JackFM with the Ryman Auditorium.
Gail Powell, Executive Director at High Hopes Development Center shares, "We are so grateful for 20 years of support to Hats Off to High Hopes from our friends in the music industry. They have helped us provide vital, life-changing therapies to children helping them learn to walk, talk, dress and feed themselves, even though it was thought they might never accomplish these feats." Last year alone, over 800 children from 22 Middle Tennessee counties benefited from 22,472 physical/occupational/speech/feeding therapies provided by the High Hopes Therapy Clinic and 132,678 hours of instructional education and nurturing through the High Hopes Inclusive Preschool.
High Hopes Development Center is a 33-year old non-profit organization that loves, nurtures, and educates children with two integrated programs helping each child reach their maximum potential. Children ages 6 weeks to Pre-K, with and without special needs, are educated together in inclusive preschool classrooms by a team of experienced teachers supporting the individual needs of each child. High Hopes also offers an on-site pediatric therapy clinic, allowing children with special needs to receive their needed therapy services during the preschool day. High Hopes is truly unique in the way that children with and without special needs such as Down syndrome, cerebral palsy, Autism Spectrum Disorder, and various developmental delays play, learn, and grow together every day. The outpatient pediatric therapy clinic provides occupational, speech, physical and feeding therapies to children from birth to 21 years. High Hopes gives children of all intellectual, physical and mental abilities the opportunity to learn and grow together in an environment that provides a strong foundation for future academic and social success. The mission of High Hopes Development Center is to equip children, youth, and their families with the skills necessary to achieve success through education, therapeutic services, and loving support.
For more information, visit www.highhopesforkids.org.