Escape winter at SoundWaves in the Gaylord Opryland Resort
Temperatures may be plunging, but it's a cozy 84 degrees at  SoundWaves, a first-of-its-kind water attraction at Gaylord Opryland Resort in Nashville, TN. Since reopening its doors in June 2020,  guests can enjoy family-friendly activities and all-ages entertainment with the confidence that their experience has been purposely redesigned to respect  social distancing and an enhanced  Commitment to Clean  program.  With 111,000 square feet of thrilling activities, SoundWaves is the perfect winter destination for adults and families alike to safely escape for a while.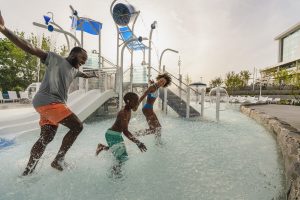 Leave Zoom Life Behind with a Family Escape to SoundWaves 
The water resort offers a  great  reason for families of all generations to travel to Nashville by blending water and music with amenities and attractions to create an experience unique to the iconic city. While the rest of Nashville is still thawing out, SoundWaves brings the heat with a controlled 84-degree tropical temperature spread across 111,000 square feet of indoor space. A modern oasis for adults, young children and families, the facility is exclusive to Gaylord Opryland guests and features various recreation zones for thrilling adventures and relaxing indulgences. Top attractions include a multi-slide tower,  FlowRider® Double indoor surfing, rapid and lazy rivers, a virtual reality ride, and an activity pool with rock climbing and more.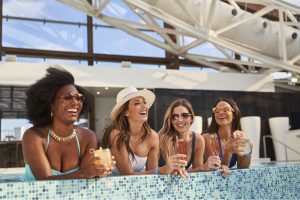 Grab Your Girlfriends for a Much-Deserved Mom-cation 
In 2020, moms did it all – juggling full-time jobs, while playing teacher, homeworker enforcer, cook and cleaning lady. This winter, leave the kids at home and grab your friends for much needed R&R at SoundWaves  with a controlled 84-degree tropical temperature spread across 111,000 square feet of indoor space. Safely stay at the renowned Gaylord Opryland Resort with world-class restaurants highlighting local offerings, signature cocktails and entertainment without leaving your hotel. Upgrade your SoundWaves experience by renting a  Private Cabana  including soft lounge chairs, a flat-screen television, refrigerator, and dedicated pool server. Adults also have exclusive access to an adult-only bar and pool that overlooks SoundWaves, perfect for moms looking for a brief reprieve.