Easter Events & Egg Hunts in Williamson County, TN & Beyond!
There are egg hunts and bunnies all over Franklin, Williamson County, and Nashville, Tennessee in anticipation of Easter on Sunday! Use this guide to find out where to catch the Easter Bunny for a photo or where to search for the eggs. There are activities for adults and children scattered throughout the town. Check out one near you for some Easter fun!
Learn more about local dining experiences, entertainment, shopping, and more at FranklinIs.com.
Sugar Drop Cafe & Dessert Boutique in Franklin will be hosting a beginners cookie class on March 25th from 9 am- 10:30 am. Students will be creating and decorating cookies inspired by the Easter Bunny! 
CoolSprings Galleria's Easter Bunny Garden 
Pet Photos with the Easter Bunny

: Your furry friends are invited to meet the Easter Bunny on March 27th and April 3rd from 9 am- 5 pm! Visits are free with photo packages available for purchase.

Special guests will be visiting the Easter Bunny's Garden and celebrating the season with free photos! With characters Alice from

Alice in Wonderland

and Mirabel from

Encanto

stopping by to take pictures on

March 28th

from 5 pm – 7 pm and the Tennessee Titans mascot T-Rac stopping by from 5:30 pm – 7 pm on

April 4th

, there will be plenty of free photo opportunities!
The Avenue Murfreesboro will be holding their annual Happy Bunny event on April 1st from 9 am- 11 am. Happy Bunny invites children with special needs and their families to take pictures with the Easter Bunny and even receive a complimentary gift!
Williamson County Parks & Recreation's Underwater Egg Hunt will take place on April 1st from 10 am- 1:30 pm! Children ages 2-12 are invited to search for easter eggs in Longview Rec Center's indoor pool. Collect as many as you can! 
You are cordially invited to GratiDude Ranch's Easter Bunny High Tea benefiting SAFE on April 1st from 10 am- 3 pm! This Franklin event features photos with the Easter Bunny, a petting zoo, crafts, an egg hunt, pony rides, and tea!
Stoney Creek Farm will be hosting an egg decorating class on April 1st from 1 pm- 2:30 pm. You will gather ingredients from nature around the farm to create unique and natural dyes before decorating 6 eggs to take home for Easter! This class is open to all ages, so swing by to create your own dyes and paint your own eggs!
Williamson County Parks and Recreation will be hosting an Easter egg hunt for dogs, benefiting the Williamson County Animal Center! On April 1st from 2 pm- 4 pm, there will be pet-friendly vendors and food trucks, photos with the Easter Bunny, and separate egg hunts for dogs under/over 30 lbs. This event is held at WCPR's Franklin Recreation Complex, and it will be fun for both you and your furry friend! 
Curio Brewing Company is throwing an Easter Egg Hunt Party in Franklin on April 1st at 3 pm! With separate egg hunts for different age groups, balloons, and a food truck, this is a great way to celebrate Easter! If your child participates in an egg hunt, they will exchange what they collected for a goodie bag. If they find a golden egg, their parent or guardian will receive a free beer or coffee!
Downtown Franklin's Saint Goose invites you to enjoy their mini class on April 6th from 5:30 pm- 6:30 pm, where you will pair Easter snacks with springtime wines!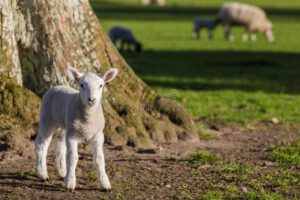 Lucky Ladd Farms
The Easter Bunny will be visiting Lucky Ladd Farms from April 7th-8th!
Breakfast with the Easter Bunny

: Enjoy a delicious breakfast and take some pictures with the Easter Bunny! Tickets include breakfast, pictures, a visit with Lucky Ladd's favorite baby animals, and a souvenir for each child! 

Spring Festival – Easter Celebration

: Lucky Ladd Farms is celebrating Easter with a Spring Festival featuring egg hunts, prizes, baby animals, and visits with the Easter Bunny as well as the usual farm attractions. 
The Great Spring Art Hop at Cheekwood Estate & Gardens in Nashville will be held on April 7th and 8th from 9 am- 5 pm. This Easter-themed event consists of nine large bunnies painted by local artists throughout the gardens, egg hunts, crafts, a scavenger hunt, entertainment, food trucks, and more!
The Aquarium Restaurant in Nashville will be offering an exclusive breakfast with the Easter Bunny on April 8th at 9am. This event features a breakfast buffet, pictures with the Easter Bunny, and the opportunity to see the Aquarium Restaurant's Mystic Mermaids swim with a variety of fish, stingrays, and sharks in a 20,000-gallon tank!
You are invited to enter a world of imagination with Storybook Decoupage's Easter-themed class on April 8th from 9 am- 11 am. Featuring crafts and activities based on Peter Rabbit, any child aged 6-10 is welcome to join in on this creative and engaging event!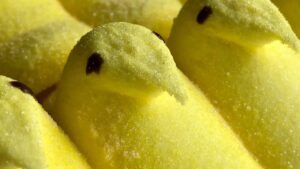 Cedarmont Farm's Annual Easter Egg Hunt benefiting TN Alliance for Kids will take place in Franklin on April 8th from 12:30 pm- 2:30 pm. There will be multiple hunts for children in all age groups to search for candy-filled eggs and a special prize egg!
The John P. Holt Brentwood Library will be hosting their Annual Easter Egg Hunt on April 8th! Pictures with the Easter Bunny will be available at 1 pm and the egg hunt will start at 1:30 pm. Celebrate Easter with the community at this annual egg hunt! 
The Nashville Zoo's annual celebration of spring will take place on April 8th from 9 am- 4 pm! Make sure to stop by the wildest Eggstravaganzoo in Middle Tennessee so you can enjoy egg hunts, face painting, themed animal enrichment, and keeper talks!
Goo Goo Cluster's recipe for Crispy Rice Surprise Eggs is a great way to celebrate the season! This simple, egg-themed treat will be fun to make for the whole family! This iconic candy originated in Nashville and is the perfect dessert for any Easter event! 
Enjoy a ride on this restored classic passenger train with the Easter Bunny on April 8th from 10 am- 5 pm! The excursion consists of a 90-mile round trip to Watertown, where there will be easter egg hunts and the opportunity to visit some shops.  
Easter Brunch 
The John P. Holt Brentwood Library will be hosting The Hunt: An Adult Easter Egg Experience on April 14th at 6 pm. Release your inner child with an 18+ easter egg hunt, photos with the Easter Bunny, yummy food, and face painting!
Looking for something fun to do this weekend? Shopping for antiques or curious about a restaurant? Wanting to volunteer your time with a non-profit, or just stopping by downtown Franklin, TN for the day? Access it all on FranklinIs.com. We encourage you to browse through the Living, News, Entertainment, Family & Kids, Real Estate, Visit, Resources and Events Calendar sections. There is something for everyone! 
FranklinIs a website dedicated to all things Franklin, TN and Williamson County! Supporting local non-profits, businesses, residents and visitors, FranklinIs the go-to place for all your Franklin and Williamson County needs.