Downtown Franklin Ground Breaking!
Photos were taken by Danielle Smith
On Aug. 22, many in the Franklin community gathered for a special celebration.
Hard Bargain Mount Hope neighborhood residents, Franklin Aldermen, Planning Commissioners, pastors, members of the Empty Hands Fellowship, financial supporters, children – and even a few folks who had never heard of the Hard Bargain Mt. Hope Redevelopment before recent press coverage – were present at 613 Mt Hope Street to celebrate the ground-breaking of the organization's first affordable house in the historic neighborhood just west of downtown Franklin, Tennessee.
Pastors Scott Roley and Denny Denson, visionaries and co-founders of the Hard Bargain Mt. Hope Redevelopment, stood within the footprint of the future 1,450 square foot, three-bedroom, two-bath house, which was marked by stakes and ribbons, to welcome the crowd and to express their appreciation and excitement at seeing a vision come to fruition.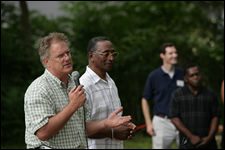 Other speakers included organization president, Chris Ude, long time Hard Bargain resident and supporter, Emily Brown, organic farmer and overseer of the new Hard Bargain community garden, Freddie Haddox, and Franklin Mayor Tom Miller.
Everybody who attended was encouraged to take a turn breaking ground with one of the ceremonial gold shovels before crossing the street to Franklin Primitive Baptist Church for a neighborhood meeting and barbecue lunch. The meeting included a presentation showing photos of the future Hard Bargain homes, floor plans and a concept plan to build additional new, affordable homes toward the west end of the same block, where the organization already owns some land.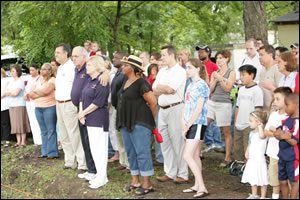 Many neighborhood residents and other interested citizens participated in a town hall-style discussion about the types of housing and nonresidential uses they would like to see in the neighborhood's future. A plan should go before the Franklin Municipal Planning Commission before the end of this year and is expected to set the standard for context-sensitive, quality, affordable housing in Franklin.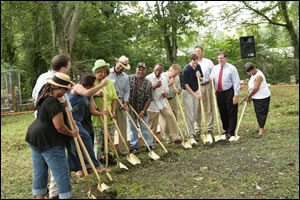 For more information about the organization, to express interest in buying a home, or for opportunities to share your skills or materials with the project, please contact Lisa at 468-2261. Hard Bargain Mt Hope Redevelopment, Inc. is a Tennessee not for profit 501(c)(3) organization.
UPCOMING CONCERT:
In recognition of the God's abundant blessings and Christ Community Church's 20th Anniversary, a special benefit concert at Christ Community Church has been scheduled for Nov. 5, 7 p.m.
It will feature Steven Curtis Chapman, Buddy Green, Wes King, Out of the Grey and more. Proceeds from ticket sales will go to support the Hard Bargain Redevelopment and artists' charities.
Tickets go on sale to general public Sept. 24. For more information, call Lisa at 468-2261.