Dickens of a Christmas
Dickens of a Christmas on Franklin's Historic Main Street brings the joy and charm of an old-fashioned Victorian Christmas recreated from the pages of Charles Dickens' A Christmas Carol and other Dickens' tales. Hours for the free street festival are 10 a.m. to 5 p.m. Saturday, Dec. 8, and noon to 5 p.m. Sunday, Dec. 9.
In addition to more than 200 costumed characters on the street, there are Victorian-themed performances throughout the event. Highlighted performances include:
Saturday, Dec. 8 – Historic Presbyterian Church at Main Street & 5th Ave.
10 to 11 a.m. Tri-M Music Honors band from Franklin High School
1 to 3 p.m. Clearview Baptist Church Handbell Choir
Also Saturday, In front of the Old Courthouse on the Public Square:
11 a.m. to noon – Sheridan School of Dance
Noon to 1 p.m. Scott Ellis School of Irish Dance
1 p.m. and 3 p.m. at the intersection of 4th and Main
Flat Creek Com. Contra Dancers re-enacting dance scenes from A Christmas Carol.
Sunday, Dec. 9 – Historic Presbyterian Church at Main Street & 5th Ave.
1 to 3 p.m. Clearview Baptist Church Handbell Choir
3 to 4 p.m. Harpeth Suzuki Strings
Old Courthouse
4 to 5 p.m. Scott Ellis School of Irish Dance
5 p.m. Town Sing at the Christmas tree on the Public Square
Everyone is invited to join the Town Sing starting at the Public Square at 5 p.m. Sunday. Purchase a candle for $1 if you wish, grab a song sheet, and join the crowd for caroling lead by Franklin music teachers Bobby and Becca Vines. Carolers are invited to proceed down Main Street two blocks to the historic chapel of the First United Methodist Church where the program continues until about 6 p.m.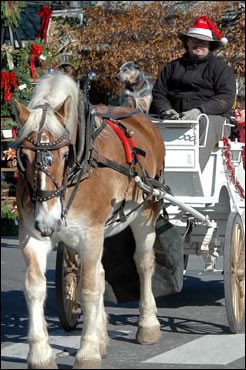 Dickens of a Christmas also features continuous street performers on Main Street from the Public Square to Fifth Avenue. Some of the featured performers are: Forte, a male quartet; harpist Abigail Bobo; David Heimleich with a Victorian water harmonica; guitarist Riverboat John; violinist John Roberts and the Franklin High School Chamber Choir.
Continuously on Main Street, characters from Dickens' stories interact with visitors. Scrooge bellows his "Bah! Humbug" while the Cratchit Family parades the streets with Tiny Tim. Ghosts of Christmas Past and Future make regular appearances. Urchins under the direction of the nefarious Fagin from Dicken's Oliver pester English Bobbies (who are actually Franklin Police Officers on duty in costume!). Father and Mother Christmas delight children.
Victorian treats abound, from authentic fish 'n' chips to turkey legs, plum puddings, roasted chestnuts and sugarplums. A holiday bazaar arts & crafts area encircles Franklin's charming Public Square, where horse drawn carriages allow visitors to see Historic Downtown Franklin at a slower pace. Stop by the Heritage Foundation booth at Fourth & Main for the best hot chocolate or cider and souvenirs from Historic Downtown Franklin.
Franklin's Main Street is a perfect setting for a Victorian Christmas celebration. Most of the buildings were built between 1890 and the early 1900s and are beautifully restored. The clatter of horses' hooves, the scent of roasted chestnuts and the sight of the whole town in Victorian attire make it easy to imagine Franklin as a 19th century English village.
Dickens of a Christmas is free and open to the public, supported by Publix Supermarkets, Trace Construction, The City of Franklin, Franklin Tomorrow, Williamson A.M./The Tennessean and Fox 17 and presented by the Heritage Foundation of Franklin & Williamson County and Downtown Franklin Association, which seeks to protect and preserve the architectural, geographic and cultural heritage of Franklin and Williamson County and to promote the ongoing economic revitalization of downtown Franklin in the context of historic preservation.
Dickens of a Christmas, in its 21st year, is a Downtown Franklin tradition that has achieved regional and national acclaim and attracts some 50,000 visitors. There are several special events in the historic district that add to the visitor's experience of Dickens, including:
LillieBelle's Tea Room on Third Avenue South – Dickens Dinners Friday Evening with seatings at 6 and 8 p.m. Victorian Tea on Saturday, Dec. 8, from 11 a.m. to 2:30 p.m. and Dickens Dinners Saturday evening at 6:30 and 8:30 p.m. All include special Victorian entertainment. Tea is $38.75 and dinner is $75 per person including all tax and gratuity. Call 615-790-2300 for reservations.
Monell's at Franklin's Historic Jail, 108 Bridge Street, has Dickens Dinner Celebrations every weekend from Dickens through Dec. 23. Dates are Dec. 7 and 8, Dec. 14-15, Dec. 21 and Dec. 23. Reservations are required and may be made by calling 615-726-4938.
For more information about Dickens of a Christmas, see www.historicfranklin.com.