Brentwood Baptist Senior Pastor Announcement
BRENTWOOD – January 15, 2023
Dr. Michael L. Glenn, the senior pastor of Brentwood Baptist Church, has announced his intention to transition out of his role in 2023.
Dr. Glenn has served as senior pastor of the church, whose central campus is at 7777 Concord Road in Brentwood, for 32 years. His ministry at Brentwood Baptist Church began in 1991. Under his leadership, the church has grown from an average weekly attendance of 736 to a membership of over 12,000 across nine campuses located throughout Middle Tennessee.
Dr. Glenn is a beloved leader known for his commitment to his family, church, and community, his gift of communication as a skilled preacher and writer, and his visionary leadership in the church and community. During his tenure, in addition to the growing health and size of Brentwood Baptist, the church has also launched several successful ministries within and beyond the walls of the church. These include the Deaf Church and DeafWay, two ministries committed to serving and reaching the Deaf in Middle Tennessee and worldwide. Dr. Glenn was also instrumental in creating Kairos, a midweek worship experience, and community for young adults. He led and taught for over ten years in addition to his role as senior pastor.
In 2016, during his 25th year as pastor, the church began a special needs ministry. By 2021, a building specifically designed to welcome the individuals, families, and friends of the Embrace Special Needs Ministry became a reality. This building, named the Rowen Glenn Center after Dr. Glenn's granddaughter, is helping the church meet the unique physical, sensory, and spiritual needs of those impacted by disability.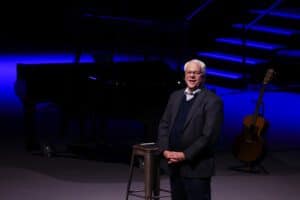 Dr. Glenn's leadership led the church to become debt free in 2012, three years ahead of schedule. This wise financial stewardship further allowed the church to continue serving and investing in ministry partners locally, nationally, and internationally.
In addition to serving his church, Dr. Glenn has also served as a chaplain for both the Brentwood Police Department and Brentwood Fire Department. His love for Middle Tennessee is evident in the development of the Middle Tennessee Initiative, a visionary emphasis and direction he began in 2014 as a way to share the gospel of Jesus by meeting tangible needs in the areas of poverty, education, and healthcare in Nashville and the surrounding areas. This contributed to the expansion of Brentwood Baptist Church from one campus to nine campuses throughout the region. Each regional campus invests and serves uniquely in the community in which it resides. Glenn's passion for the development and support of healthy churches in Middle Tennessee is also evident in the creation of the Engage Church Network, a family of gospel- centered churches serving together to reach their communities for Christ.
In the coming days, Glenn will remain committed to and involved in the church's ministry as he transitions into a new role at Brentwood Baptist.
About Brentwood Baptist Church
Brentwood Baptist Church exists to engage the whole person with the whole gospel, anywhere, anytime, with anybody. Since 1969, the church has grown to a membership of over 12,000 among nine regional campuses throughout Middle Tennessee. Additional information about the church is available at brentwoodbaptist.com