Achieving a Beautiful Wedding Day Smile
We spoke with Dr. Matt McGee, DDS, of Nashville for much of the factual content in this article. Dr. McGee is a general and cosmetic dentist who specializes in aesthetic restorative dentistry, including porcelain veneers, crown and bridge, bonding and whitening. For more information about Dr. McGee, please call 615.298.2385.
On your wedding day, your smile will be noticed all day long and remembered for years to come through photos and videos. Today, more and more brides and grooms are visiting cosmetic dentists and drugstores to make their wedding smiles the brightest they can be. Dr. Matt McGee, DDS, of Nashville says that brides, grooms, their families and wedding parties regularly request a variety of procedures to enhance their smiles for a wedding.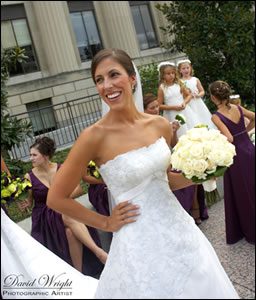 Teeth whitening or bleaching is the most popular of the numerous procedures available. According to Dr. McGee, demand for whitening has increased in the past five year by more than 500 percent. Whitening can get rid of coffee, cigarette or wine stains or brighten dull teeth. A variety of whitening treatments are available.
Dr. McGee explains that in-office whitening is the quickest and most convenient way to get whiter teeth. Sometimes, people may experience some tooth sensitivity, particularly if they have cavities or cracked teeth. But in-office whitening will not bleach dental work.

For this procedure, the dentist will put a protective barrier on the gums, then apply a gel to the teeth. Some dentists will then use a light to activate the gel. Within an hour and a half, teeth can be six to 10 shades lighter, and the effects can last for months, or even years. Dental patients will only need to visit the office once for the full treatment, and the procedure typically costs between $450-$800.
"I recommend in-office whitening because it is fast and effective for brides who are already busy planning their wedding," says Dr. McGee. "Brides who elect to have in-office whitening appreciate the speed of the procedure, as well as the brightness of their smiles."
Whitening trays are another popular whitening option because the effects are more gradual than in-office whitening, giving brides control over how white their teeth become. Users fill the trays with bleaching gel and then place the trays in their mouths twice a day for 30 to 60 minutes or overnight. Trays must be worn twice a day for 30 to 60 minutes or overnight. Dr. McGee says that results are typically apparent within 10 to 14 days. Like in-office whitening, tray bleaching will not work on veneers, fillings or crowns. Dentists make customized trays from impressions of the top and bottom teeth. Most trays cost between $300-$600.
"This is a great way to go because you can control the degree of whitening, and trays are safe and effective," says Dr. McGee. "Unlike in-office whitening, patients are less likely to have sensitivity with trays. I frequently recommend whitening trays to brides who have more time before their wedding."
Some brides may elect to use over-the-counter whitening products because they are more cost-effective than products offered at a dentist's office. However, though over-the-counter methods such as whitening strips can be effective, they do not give the dramatic results that only a dentist can provide. Over-the-counter products contain a maximum of six percent peroxide, while professional methods contain 20 to 35 percent peroxide. Whitening strips do not completely cover teeth and can cause incomplete bleaching. The cost of these products ranges from $15 to $70.
"The whitening solution in over-the-counter products is similar to what you would find at a dentist's office, but because the percentage of peroxide is so much lower, brides often buy multiple kits," says Dr. McGee. "I have had patients complain about gum irritation because the strips do not fit their teeth properly – another consideration in exploring over-the-counter options."
Whitening toothpaste is another over-the-counter product brides might try before their big day, but Dr. McGee cautions that despite what the package says, whitening toothpaste hardly helps achieve whiter teeth, and it may be harmful. Many whitening toothpastes contain abrasives like baking soda and silica that may wear away enamel and make teeth sensitive. While others contain bleaching agents like peroxide, the concentration is not high enough to be effective.
"I only recommend toothpaste that is approved by the American Dental Association (ADA)," says Dr. McGee. "Generally, whitening toothpastes are not effective because they remain on the teeth only as long as it takes to brush."
For some brides, the perfect smile involves more than a bit of whitening gel. For teeth that need straightening or reshaping, other options are available to achieve that million-dollar smile. One of the most popular choices for beautifying smiles beyond whitening are veneers. Teeth can be transformed with veneers – made larger, smaller, whiter, straighter, rounder or more symmetrical. Veneers also resist staining because they are porcelain and not porous like teeth. They also hide discoloration, chips and cracks.
"I had veneers done after my wedding, and I so regret that I didn't get it done before the big day," says Brandy Tickle, a dental patient of Dr. McGee's. "As I flip through my wedding album, I realize how much brighter my smile could have been. Dr. McGee did an excellent job, and I am amazed by how perfect and straight my teeth are."
The cost for veneers of $1,000 to $2,000 per tooth can be deterrent for some, but others believe it is well worth it for the overall difference the procedure makes on their smiles and self-image. For this procedure, a dentist makes an impression of the teeth to create porcelain laminates that will be adhered to the existing teeth. The teeth are then reshaped in order for the veneers to be placed. Upon placement, the veneers can last 10 to 20 years.
"For my son's wedding, I wanted a dazzling smile for his special day, and whitening was not enough," says Georgia Griffen, another dental patient of Dr. McGee's. "Dr. McGee listened to my desires and crafted a smile just for me using veneers. I couldn't have been happier with the results."
An alternative to veneers is bonding, which is less expensive ($300-$600 a tooth), but still helps correct tooth flaws such as chips, cracks and gaps. If a bride elects to do bonding, the dentist will take a resin, which is like putty, and match it to her enamel. The dentist will adhere it to the tooth and then polish it to look like the rest of the natural teeth.
"Bonding is a great alternative for brides who have a smaller budget, but who desire to have a minor flaw in their smiles corrected," says Dr. McGee. "I have had many patients amazed at the difference bonding can make to their smiles."
From over-the-counter products to cosmetic dentistry, brides, grooms, their families and friends have a wide variety of choices to create a picture-perfect wedding day smile that will be memorable for years to come.
Photograph by David Wright Photography