A Great Fall Day in Leiper's Fork
Both sides of the street in historic Leiper's Fork were packed with people on Saturday afternoon on October 18, 2008. There was great live music, warm sunshine, unique vendors and of course lots of chili. Who wouldn't want to savor the day? It was evident that a lot of people did, the 7th annual Leiper's Fork Chili Cook-off presented by the Leiper's Fork Community Association was a great success and the competition was hot!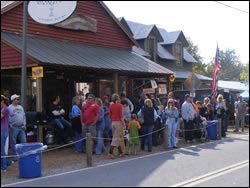 Attendees of the cook-off had an opportunity to sample chili and vote for the People's Choice award. Clutching plastic spoons, the "people" weaved in, out and across the street, sampling each booth's savory blend. The brave conquered all 21 booths and likely also made a stop at the booth selling antacids. The weak picked and chose certain booths and saved their stomachs for their favorite types of chili. And there was plenty of chili to choose from—ones loaded with meat, ones loaded with beans, spicy chili and savory chili. In addition, a few pots of white bean chicken chili were spotted, bowls of homemade salsa and even an alleged "chili" chocolate (I couldn't taste any chili but they got my vote).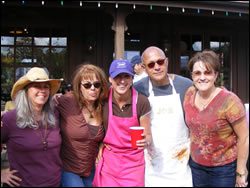 During the competition, everyone enjoyed music by Tommy Crain & The Crosstown Allstars. They played what has been described as, "a mixture of heart-felt blues, southern rock, classic R&B and jazz". The Boomers took the stage later in the afternoon and continued to play crowd-pleasing favorites after the awards were presented. Over on the Kids Stage, young talent showcased their musical abilities and impressed the crowd with their upbeat tunes.
This year there were three chili competitions. The "Showmanship Award" for chili or salsa contestants gave unique trophies to first, second and third place. Second and third place in showmanship also won gift certificates and first place took home $150 cash. The "People's Choice Award" (for chili contestants) gave everyone that purchased a ticket an opportunity to vote for their favorite chili. First place took home a unique trophy and $250 cash and second and third place won unique trophies and gift certificates.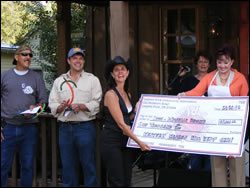 Finally, the blind "Strictly Scratch" competition was judged by qualified, expert-chili tasters. Third place took home a unique trophy and $150 cash and second place took home a unique trophy and $350 cash. First place in this ultimate competition won a unique trophy and $1000 cash.
Michael Brooks, nephew of Buzz and Michelle Thompson who are the directors of the local Western Wishes chapter won the "Strictly Scratch" competition. The $1000 prize will be donated to Western Wishes, a charity that helps grant wishes of children that have face adversity and appreciate the "western" way of life.
All in all, it was a great day to be outside and enjoying the fall weather in Leiper's Fork. Everyone enjoyed the friendly competition, browsing vendors' booths and listening to live music. Leaving the event, the warm fullness of your belly can only think about what surprises might be at next year's competition and how your chili might just win.