55 South Opens Third Location in Spring Hill
The favorite eatery by McConnell Hospitality Group opens just south of its Franklin, TN and Brentwood locations
NASHVILLE, TN – Spring Hill residents have just hit the restaurant jackpot. 55 South, Downtown Franklin, TN's popular eatery that opened a second location in Brentwood last summer, will open its third restaurant at 2086 Wall St. on Tuesday, March 20.
"55 South has already made a home in both Franklin and Brentwood, TN, and we're thrilled to bring another dining option to the Spring Hill community," said Sharon Davis, director of operations and development at McConnell Hospitality Group. "For diners who haven't tried 55 South, we are excited to introduce our menu and atmosphere. For those who are already fans of our Franklin and Brentwood locations, we're happy to offer favorite dishes closer to home."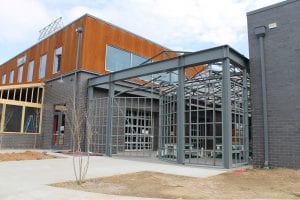 Chef Jason McConnell offers fare that is often found along the stretch of Interstate 55 that runs all the way from Memphis to New Orleans, also known as 55 South. The highly anticipated restaurant will be neighbored by Martin's Bar-B-Que Joint (opening later this month) and a soon-to-be announced fast-casual concept by McConnell that will specialize in tacos, tortas and margaritas. The restaurant "campus" will share outdoor dining space, including a beer garden that links all three restaurants. Brunch will also be offered following the initial opening, including a limited menu of breakfast staples, along with the regular lunch and dinner menus. Drink specials will be available with the launch of brunch, such as a build-your-own Bloody Mary bar, along with two- for-one mimosas.
55 South is owned by Jason McConnell, who is also the executive chef and owner of McConnell Hospitality Group. This restaurant continues McConnell's partnership with Fresh Hospitality, whose other partnerships include Biscuit Love, The Grilled Cheeserie and Martin's Bar-B-Que Joint. The neighboring restaurants will add to the ever-growing community, and the connectivity of the concepts offers diners restaurant options that were not previously available in Spring Hill.
The Spring Hill 55 South features 3,500-square-feet with 106 seats inside and 35 seats outside. The restaurant boasts a beautiful bar with a large bourbon selection and happy hour offerings Mon. – Fri. from 3 – 6 p.m.
55 South is open Mon. – Thurs. from 11 a.m. – 9 p.m., Fri. from 11 a.m. – 10 p.m., Sat. from 10 a.m. – 10 p.m. and Sun. From 10 a.m. – 9 p.m. Brunch will be available on Sat. and Sun. from 10 a.m. – 3 p.m.
For more information about 55 South and the McConnell Hospitality Group, visit www.eat55south.com.
ABOUT 55 SOUTH
55 South is a restaurant concept by Jason McConnell and McConnell Hospitality Group. The restaurant currently has two locations, one in Downtown Franklin, TN and one in Brentwood, TN. The menu showcases the chef's take on downhome, southern comfort food from po'boys to peel-n-eat shrimp. 55 South is open seven days a week and is located at 7031 Executive Center Drive, Suite 101 in the heart of Brentwood, Tenn. 37207 and online at www.eat55south.com.