5 random questions with…
Recently, we had an e-chat with Marty Roe of Diamond Rio, the Country super-band who debuted 15 years ago with the #1 single, "Meet in the Middle."
Since blasting into country music, Diamond Rio has achieved gold or platinum sales with each of their studio albums, racked up 13 Grammy nominations, 15 consecutive Country Music Association nominations for Vocal Group of the Year, more than any country group in CMA history, two-time Academy of Country Music and four-time CMA Vocal Group of the Year.
Below are Marty's answers to our 5 random questions…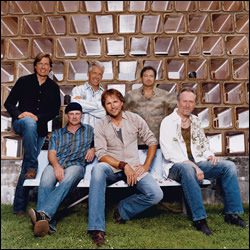 FI: What is the funniest thing that has happened to you on the road?
Marty Roe: There have been a lot in the past 20+ years, but one that comes to mind is many years ago while traveling with Alan Jackson. We were at the end of our show playing "Norma Jean Riley," and I was running all over the stage when I crossed paths with Jimmy and ran my face right into the head stock of his guitar. It tore the skin on my nose (I still have a scar) and I bled the rest of the show. Diamond Rio's show is a full contact show.
FI: What subject do you "Google" the most?
Marty Roe: The weather report and golf.
FI: What is your favorite golf course you have played and why?
Marty Roe: I have a lot of favorites but if I have to narrow it down to one it would have to be Scioto Country Club in Columbus, OH. It's an original Donald Ross design, and there is a great amount of golf history imbedded there. Jack Nicklaus learned the game there and grew up there.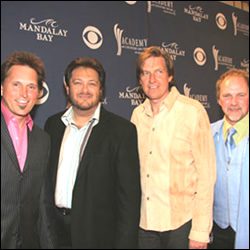 FI: What is your most memorable show and why?
Marty Roe: That is easy! The night we were inducted into the Grand Ole Opry.
FI: Tells us about your involvement with the Big Brothers Big Sisters of Middle Tennessee and how others can help?
Marty Roe: We were introduced to Big Brothers Big Sisters early in our career. I was drawn to the grass roots approach to a very important issue, the mentoring of our youth. We have been very fortunate in our lives and it just feels right to give back. The best way I know for people to help out is to volunteer to become a Big Brother or Big Sister. The littles are waiting in line!
More about Diamond Rio…The band members are:
• Marty Roe (Lead Vocals, Acoustic Guitar)
• Jimmy Olander (Guitar, Banjo)
• Dana Williams (Bass, Vocals)
• Dan Truman (Keyboards)
• Gene Johnson (Mandolin, Vocals, Banjo, Fiddle, Guitar)
• Brian Prout (Drums)
* visit the official Diamond Rio website…
After becoming the first country group in history to top the chart with a debut single, Diamond Rio has piled on enough successive hits to warrant a Greatest Hits album and now, 15 years into their career, Diamond Rio has taken that trip up the national charts so many times that the band is looking at… gulp… Greatest Hits II, a landmark that seems almost insane when the band reflects on the odds.
"Sometimes you can't believe we've done so much," bass player Dana Williams marvels, recalling that not so long ago, he and his five band mates were among those thousands vying for that one glimmer of success. "It pretty well blows your mind."

Greatest Hits II provides a real opportunity to reflect on the band's journey.With the emotional "One More Day," the sonically inventive "Beautiful Mess," the lively "Unbelievable" and the poignant "I Believe" leading the way, the album features some of the most identifiable material of the last decade—in part because Diamond Rio is so unique and non-conformist in its approach.
Further supporting that non-conformity is the inclusion of not one, not two—but four new songs adding to its legacy of stringent quality: the thoughtful "God Only Cries," the outrageous "Redneck Love Gone Bad," the personal "In God We Still Trust" and the intensely moving "Over You." Ranging from the latter's pop chords to the former's strident twang, the new songs underscore Diamond Rio's ability to craft a consistent sound from a versatile body of work.
"We've cut things that were way out of the box or outside of our comfort zone, because the groove was more R&B," keyboard player Dan Truman says. "But in doing that, we've learned that you put our voices and our instruments together and it sounds like us."