10 Pet-Friendly Restaurants in Franklin & Williamson County, Tennessee
The weather is warming up and there are plenty of places to sit outside and enjoy some food with your furry friend! Whether you are in the mood for a casual pub or a restaurant with a unique atmosphere, there are a variety of pet-friendly restaurants to choose from in Franklin and Williamson County, Tennessee! 
Learn more about local dining experiences, entertainment, shopping, and more at FranklinIs.com.
Americana Taphouse serves a menu of traditional American favorites and offers 24 beers on tap. This downtown Franklin restaurant cultivates a fun environment through live music from local artists as well as a heated, dog-friendly outdoor patio with wraparound shrubbery overlooking Main Street! If you're looking for somewhere to unwind while enjoying some good food and live music with your furry friend, this is the place for you! 
Located in downtown Franklin and referred to by locals as "The Pig", The Bunganut Pig welcomes your pups on their outdoor patio. This is a great place to relax and have some fun, as they regularly incorporate live music, dancing, games, trivia, and daily specials into their evenings! 
Burger Up offers gourmet, farm-to-table burgers as well as a large, dog-friendly patio in Franklin! They even have a mini-golf course for guests that your four-legged friend can join you on!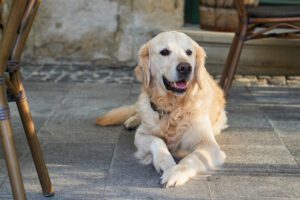 Izzy's Feel Good Food is a local restaurant and music venue in Franklin! Stop by and experience some live music on their heated dog-friendly patio while enjoying their menu full of favorites as well as 12 beers on tap!
If you're looking for a spot with a more refined ambiance, you will find Mere Bulles located in Brentwood in Maryland Farms away from the hustle and bustle of the city! Enjoy their delicious cuisine worry-free knowing that their food is made with a focus on fresh and local ingredients. Their outdoor seating ensures a beautiful view, and your furry friend is welcome on the veranda!
Puckett's Grocery & Restaurant is a casual eatery with a menu of authentic Southern classics and local music performed live. Your dog is welcome to join in on the fun at their outdoor tables while you enjoy the delicious food! 
The Tin Roof 2 is a local bar and music venue in Franklin offering scratch-made food, weekly events, live entertainment, a daily happy hour, and dog-friendly outdoor seating! Some of their weekly events include trivia, bar bingo, karaoke, and live music, so consider enjoying time with your human and furry friends at The Tin Roof 2! 
Mellow Mushroom puts a unique twist on traditional pizza. With their eclectic menu, local craft beers, and dog-friendly patio in downtown Franklin, you can relax and enjoy their art-filled, one-of-a-kind environment with your furry friend!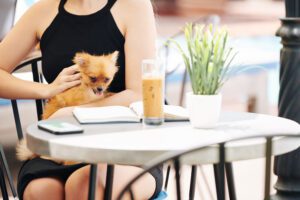 Tupelo Honey Cafe provides guests with a unique atmosphere and sixteen dog-friendly tables outside! Look around at the incredible local artwork adorned on their walls and enjoy their food made from locally grown ingredients. Their menu boasts scratch-made dishes that merge traditional southern cooking and innovation, so make sure to stop by with your pup! 
Tony's Eat & Drink is a local pub in Franklin, famous for their unique menu, happy hour, and skee ball machines. Bring your pup along and relax on their large, dog-friendly patio! 
Looking for something fun to do this weekend? Shopping for antiques or curious about a
restaurant? Wanting to volunteer your time with a non-profit, or just stopping by
downtown Franklin, TN for the day? Access it all on FranklinIs.com. We encourage you
to browse through the Living, News, Entertainment, Family & Kids, Real Estate, Visit,
Resources and Events Calendar sections. There is something for everyone!
FranklinIs a website dedicated to all things Franklin, TN and Williamson County!
Supporting local non-profits, businesses, residents and visitors, FranklinIs the go-to
place for all your Franklin and Williamson County needs.