10 Dream Destinations
By Andrea Scarlatelli and J.L. Bibb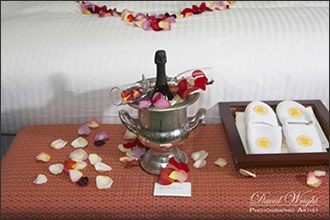 So, the wedding's over. The guests have all gone home. Now what?
Now you get to embark on that ultimate symbol of matrimony – the honeymoon! Although the conventional beach getaway is still extremely popular, many couples are opting for something different.
But whether you decide to lounge on the beaches of Mexico or hike the mountains of Italy, you're bound to find your own little paradise.
Here are some of our top honeymoon picks:
10. Banff, Alberta, Canada. Banff Springs Hotel; 1.800.257.7544
Built in the style of a Scottish baronial castle, this hotel will make you feel like royalty. Nestled within the sleepy woods of Canada, it offers breathtaking vistas perfect for viewing the untouched wilderness that surrounds you. It also has golf courses, a European-style spa and top-notch ski slopes.
9. Barbados. Tourism Authority Office; 305.442.7471
This is the perfect place for couples who can't quite decide what they want to do on their honeymoon! Visit historical sites, hike a nature trail or go see an art exhibition. Cliff-side restaurants abound, along with opportunities for dancing and sunset sailing.
8. Dana Point, California. Visitors Bureau; 949.496.1555
Surfing, snorkeling and sunshine is what you'll get at Dana Point. A historic little community, it offers lots of tourist activities without the tourist feel.
7. Deer Valley, Utah. Stein Eriksen Lodge; 800.453.1302
Nestled next to the majestic Rocky Mountains, this lodge makes use of its secluded location and pristine environment. Surrounded by so much natural beauty, you're sure to come away feeling rejuvenated.
6. Lahaina, Hawaii (Maui Island). Visitors and Convention Bureau; 800.464.2924
Whether you're watching the sunrise atop Haleakala crater or relaxing at world-class resorts, Lahaina is a great place to unwind and enjoy the sunshine.
5. Little Torch Key, Florida. Little Palm Island Resort and Spa; 800.343.8567
This resort is great for couples who want to mix it up a little. On those days you're feeling adventurous, try some sailing, deep sea fishing, kayaking or windsurfing. Is it a lazy day? Get a massage, relax on the beach or take a dip in the freshwater lagoon pool.
4. Los Cabos, Mexico. Tourism Board; 011.52.624.143.4777
With 20 miles of beaches, you'll always have your own private place in Los Cabos. One stretch is even named Lovers Beach – how romantic can you get?
3. Weston, Vermont. Tourist Information. 802.824.5606
Home to Vermont's oldest professional theatre company, Weston is a village almost completely untouched by time. The entire town is listed under the National Register of Historic Places, guaranteeing that its rich history will be available to visitors for years to come.
2. Guana Island, British Virgin Islands. U.S. Reservations Office; 914.967.6050
Eight-hundred and fifty acres of stunning tropical beauty, this island limits its guests to 36 at a time. If you're looking for unparalleled seclusion and romance, this island (and its seven beaches!) is where you need to be.
1. Tuscany, Italy. Italian Government Tourist Staff
Steeped in history, Tuscany provides an intense cultural experience. You can make this trip as busy or relaxed as you want. But with an abundance of museums, cathedrals, and historic ruins, you'll never run out of things to do.
Photographs by David Wright Photography