Visiting Franklin
By Polly Bibb, native Franklinite
Franklin, Tennessee is a fun place with endless things to do, places to go, shopping and food to eat.  If you only have a day or two, below are some great ideas for a short stay in Franklin.
Breakfast
-Bakers come in before the sun comes up to prepare the freshest, decadent and delicious pastries for your tasting pleasure. For the ultimate pastry breakfast and delicious coffee make Merridee's your breakfast stop.
-Locals frequent Dotson's Restaurant on Saturday mornings for a traditional southern breakfast and old Franklin feel stop by Dotson's.
Mid-Morning
-"Antique Row" located on South Margin Street and Second Avenue. Endless antique treasures are for your discovering! Sizzle Award winners chose J.J. Ashley's as their number one antique store.
-A little taste of Soho in Downtown Franklin
Fashion enthusiasts will love the unique boutique and designer labels carried at What's-in-Store, Gin-o, Emmaline, Ivey on Main and The Haven.All of these stores are located on the Main drag of Main Street and Fourth Avenue.
Lunch-
-Picnic in the Park- Pack a picnic lunch and go to Pinkerton Park with the family.Hiking up to Fort Granger from Pinkerton Park is not too far, and the grassy knoll is the perfect place to picnic, throw the Frisbee and relax.
-Downtown has a variety of choices depending on your eating preferences. For an upscale and more business like lunch, Sol is delicious. Puckett's Gro. won the Sizzle Award for best meat in three. For a ladies lunch, Dumplins has a wide variety of options with healthy and indulging food options.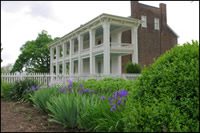 Afternoon-
–Carnton Plantation is an excellent historical site and one of my personal favorites. Tours are available and the land is full of so much history that made Franklin what it is today! The Carter House is another excellent educational experience.Tour guides paint a detailed story of what the Battle of Franklin was like and the house still holds hundreds of bullet holes.
-Downtown Shops – From antiques to baby clothes to artwork, stationary, boutiques, jewelry, gardening needs, special teas, chocolate and special soaps, you will find all of your shopping needs fulfilled on Main Street and the adjacent streets.
-Want to go for a late afternoon walk? The Harpeth River which runs through Franklin has many access points to a lovely trail by the river. Check out http://www.harpethriver.org/river.html for more information.
Evening-
– Other Eating Options-
You could get all gussied up and go out to the Red Pony for a city-like restaurant. Or, for the ultimate Irish Pub atmosphere, McCreary's has a fun menu and tasty ales. Sol and Puckett's also offer a dinner menu and often live music.
-Downtown also gives you two ice cream parlors to choose from within walking distance from these restaurants- Baskin Robbins and Ben & Jerry's. If chocolate is your thing, Aux Choux serves delicious cheesecakes, chocolates and coffee.
For more ideas or information check out http://www.williamson-franklinchamber.com/.