THE IROQUOIS STEEPLECHASE OPENS TICKET SALES FOR HOSPITALITY TENT OPTIONS
Individual ticket sales are also now on sale
NASHVILLE, Tenn. –The Iroquois Steeplechase is excited to announce that tickets are now on sale for the hospitality tent options for box holders. In addition, individual tickets and Hillside Tents are also now on sale. The annual event is returning to Percy Warner Park on Saturday, June 26.
Iroquois Steeplechase Chairman Dwight Hall said, "We are thrilled to announce today that we are opening sales for the various hospitality tents along with individual tickets. Patrons are eager to finalize their plans for Nashville's grandest tradition and our first major event in 2021."
Event organizers will continue to work diligently following Centers for Disease Control and Prevention (CDC) recommendations for major outdoor events. Patrons will see more sanitizing stations, masked and gloved workers and more. Box holders are now able to purchase tickets to the party tents, Paddock Club, Iroquois Society, and Turf Club. The Hillside Tents, private party tents, are on sale for 50 or 80 guests with the option to purchase additional tickets for party-goers. Individual tickets are also on sale for patrons who wish to attend the event and roam throughout the venue. Tailgating spaces have been for sale since April 7.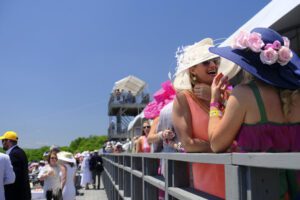 "If inquiries about tickets to Steeplechase are any indication of what we can expect, it promises to be a record year in interest. In addition, we are having 150% more inquiries about our most exclusive experience which is the Skybox at Steeplechase. We anticipate selling out of our hospitality offerings. It's going to be an incredible experience for all patrons and we look forward to welcoming our multi-generational patrons as well as newcomers to Nashville," Hall added.
About Iroquois Steeplechase
The Iroquois Steeplechase is an iconic sporting event that has been Nashville's rite of spring since 1941. Normally, held the second Saturday of each May at Percy Warner Park, the annual event attracts more than 25,000 spectators and is Music City's celebration of time-honored traditions, Tennessee hospitality and southern fashions. The event also supports several philanthropic causes and has donated more than $10 million to the Monroe Carell Jr. Children's Hospital at Vanderbilt since 1981. To learn more about Steeplechase, visit www.iroquoissteeplechase.org.