Summer Tennis Programs for Youth and Adults
The Williamson County Parks and Recreation Department (WCPR) is offering a variety of summer tennis programs including youth tennis camps, instructional clinics, adult league play opportunities and a youth tournament. Programs are included on indoor and outdoor courts across Williamson County.
A series of Quick Start Tennis Camps for beginners ages 6 to 9 will be held at the Indoor Sports Complex, 920 Heritage Way, Brentwood, TN, in June and July.  These camps are a great way to introduce kids to the lifetime game of tennis with skilled instruction provided by USPTA professionals.
The Summer Session III Tennis Clinic schedule begins the week of Monday, July 6 with an assortment of instructional programs offered for youth and adults in a variety of skill levels from beginners to advanced players.  Clinics are taught by USPTA professionals, and the clinic session runs for 6 weeks.  Locations include the Indoor Sports Complex in Brentwood, Crockett Park, Ravenwood High School, the Franklin Recreation Complex, 1120 Hillsboro Rd., Grassland Park, Franklin, and the Longview Recreation Center at Spring Hill, 2909 Commonwealth Dr.
League play for Singles, Doubles and Mixed Doubles will be offered for men and women.  Play also starts the week of July 6 with daytime and evening leagues offered.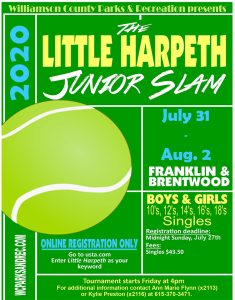 And finally, our first tennis tournament of the season will be held July 31-August 2. The Little Harpeth Junior Slam is a youth tournament for ages 10-18 and offers singles events only. The tournament is played on various courts in Brentwood and Franklin. USTA membership is required, and registration is available at www.usta.com, keyword Little Harpeth, until July 27, 2020.
For a detailed list of camps, clinics, league and tournament opportunities; as well as online registration, visit www.wcparksandrec.com.  For additional questions contact: Ann Marie Flynn at (615) 370-3471, ext. 2113, AnnMarie.Flynn@williamsoncounty-tn.gov; or Kylie Preston at (615) 370-3471, ext. 2116, Kylie.Preston@williamsoncounty-tn.gov.
####
Williamson County Parks and Recreation (WCPR) is a public organization benefitting the community.  Anyone may register for and participate in the department's programs, teams, classes and events. For program registration, pass purchasing or additional information, visit www.wcparksandrec.com.  You may also receive department information by "liking" Williamson County Parks and Recreation on Facebook; following us on Twitter at @wc_parksandrec or Instagram at @willcoparksandrec or on Pinterest or YouTube.