Meet the Tassones – The Friendly Faces Behind the Five Points Franklin Market
Article by Lisa Valentine
Photography by Courtesy of the Tassones
Originally published in Franklin Lifestyle
Anyone who has visited Franklin knows that the town's quintessential charm not only comes from the shops on Main Street, but also from the people who make up the Franklin community and the traditions that bring them together. One of Franklin's newer yet beloved town traditions is the Five Points Franklin Market, where locals and visitors alike can be found milling around on Tuesday evenings from May to October. Established in May of 2021 by husband-and-wife duo Danny and Amy Tassone, the Five Points Franklin Market has become a favorite place to grab a bite to eat, buy locally grown produce, check out handmade artisan goods, and have fun with the family.
"I grew up in the food business," says Danny. "My family runs a 350-acre farm in Upstate New York. I grew up doing farmers' markets when I was little. We also had a grocery store." Most of Franklin knows Danny as the longtime owner of local favorite Ellie's Old Fashioned Doughnuts. "My main business [for the donut shop] is the Franklin Farmers Market on Saturdays," he shares. "So I just thought that Franklin could use a weekday market in Downtown Franklin."
With their family and the donut business already keeping them busy, the Tassones dove right into bringing the Five Points Franklin Market to life in the prime location on Fifth Avenue in the parking lot behind Starbucks right off Main Street. Like a love story straight from a movie, Danny and Amy actually met at the Saturday Franklin Farmers Market! "The whole farmers market business is very personal to us," shares Amy. The couple even kicked off the 2022 season of the Five Points Franklin Market on their wedding anniversary this year.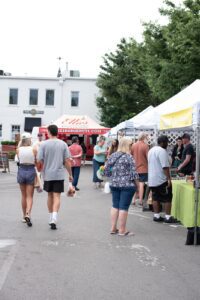 The Tuesday evening market is the perfect spot for families to come and enjoy quality time together. "We do really try to cater to the families and the kids, so we always have activities out there for kids, " says Amy. As a former children's minister, she places great importance on bringing joy to the children in the community, providing everything from activities and games to inflatables for them to enjoy at the market. "It's really a spot where people can come and shop, then also get a bite to eat and hang out and we have live music every week," she shares.
The Tassones are grateful to play a role in bringing the community together to enjoy music, friendship, and everything that the Franklin community has to offer. "This is our home. Though we aren't originally from here…we've both been here each 25 years almost. It's a lovely community," says Amy. "Yes, it has grown exponentially since each of us both moved here, but the downtown is just the classic kind of Main Street community in the look, but also in the feel. We love small business. We have our small business ourselves. It just gives an outlet for someone who is starting a business, with the market setting to be a good place to get started with that. Franklin is just a friendly, fun town to be in and so we love supporting our community and providing an opportunity for other people to get their business out there and support themselves and their families."