Franklin Couple Brings New Energy to Middle Tennessee's Theatre Community
Article by Jennifer Bennhoff
Photography by Anthony Matula of MA2LA
Originally published in Franklin Lifestyle
On the first day of her freshman year at Belmont University, Annabelle Fox from Wilton, Connecticut walked into a musical theatre seminar that changed the course of her life. "The professor told the students to introduce themselves to someone new, so I turned around and saw this guy with the most beautiful eyes, one brown and one green." That young man was Douglas Waterbury-Tieman, a senior fiddle player earning his bachelor's degree in music. The two kept running into each other on campus – "He was stalking me," Annabelle laughs – and dated for over six years before marrying in 2016.
Annabelle, 30, has enjoyed a musical theatre career in off-Broadway and regional productions along the East Coast, and performed in "The Sound of Music," "Les Miserables" and "Fiddler on the Roof" with Studio Tenn in Franklin.
Douglas, 32, from Georgia and Kentucky, is also an off-Broadway and Studio Tenn veteran, and he's the founder of New Musical Theatre Nashville. NMTN recently partnered with the Johnny Mercer Writers Grove to create a monthly gathering for local songwriters and playwrights interested in creating new musicals. The salon style evenings give professional writers an opportunity to read scenes and play new songs for feedback from their peers.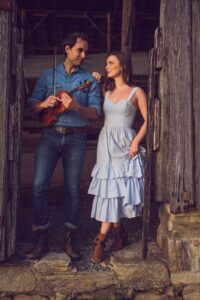 In 2020, the couple was living in New York and working in theatre when the pandemic hit. "When we were at Belmont, we would visit Franklin, see shows and perform with Studio Tenn," Annabelle says. "It seemed like a far-fetched dream for us to actually live here." In August of 2020, they made the move. "It's a funny coincidence because I was in The Roundabout Theatre production of "The Robber Bridegroom," which Douglas explains is a show about the Natchez Trace. "When we moved to Franklin, I became the landscape operations manager for a farm near the Natchez Trace. I play the soundtrack while I work!"
"Franklin is the perfect place to build a community-theatre relationship," says Annabelle. Plus, their current theatre project was conceived here in 2014 while both were performing in "Fiddler on the Roof." "I thought about why Medieval religious leaders called the violin – or "fiddle" — the "devil's box," Douglas says. "Fiddle music inspired dancing, merriment, and fame for musicians."
His folk musical begins with a retelling of the Book of Genesis and features The Angel Band, God and Lucifer, Adam & Eve, Douglas as "Johnny Baker," and Annabelle as "Abigail," a young woman inspired to dance and seek adventure after meeting Johnny. The story weaves together themes of pride, jealousy, a family secret and romance, and is influenced by the Georgia mountains, Kentucky bluegrass, with some jubilant Grand Ole Opry mixed in. "I wanted to write something that could play on Broadway one night and in Branson the next," says Douglas.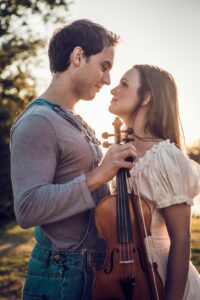 In 2020 he received a Frank Young Fund Writers Residency grant, enabling a "Johnny" concert series at Connecticut's Goodspeed that generated excitement for the show's first run. "It's surreal to finally have a full production," says Annabelle, "because it has been in development since 2014."
The show will run at the Cumberland County Playhouse in Crossville, Tennessee from November 17 thru December 18, produced by a crew of Broadway veterans. The show's Music Supervisor Scott Wasserman has worked on "Hamilton" and "Dear Evan Hansen," among many others. Bryce McDonald, the Playhouse's producing director, has been a huge supporter of the show from its early days.
Finally, congratulations are in order for the couple's most recent – and most important – collaboration: Their son Oliver James was born on April 29, 2022!
JohnnyAndTheDevilsBox.com  CCPlayhouse.com  Instagram @thefiddlinproject