FiftyForward celebrates older Americans throughout the month of May 
Activities honor the vibrance and resilience of adults over the age of 50
Join FiftyForward staff and community members for a party in the parking lot (174 Rains Ave., 37023) to honor and celebrate Older Americans Month* this May and to celebrate the agency's 65th anniversary.
FiftyForward will host a Beep & Feast drive-through, socially-distanced event will feature food from restaurants in the seven communities where FiftyForward has its lifelong learning centers. "To go" samples from the following community restaurants include Delicias Colombiana, Cocorico Cuisine, Blue Crab Shack, Hearts in the Mix, Douglas Delights, and Dreamers Pizza will be offered.
In addition to the feast, local musician Gary Jenkins will be onsite to serenade participants with a variety of songs;
FiftyForward Donelson Station ukulele group will share music and their love for learning and for entertaining;
A special photo booth will be available featuring a vintage red and white '51 Chevy to add to the festive spirit of the event.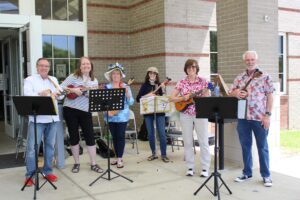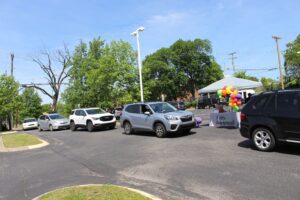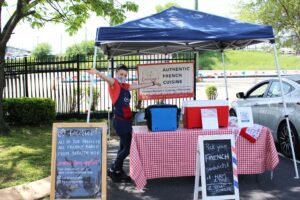 COVID-19 offered harsh realities for older adults. The year was especially tough on older adults and their family members. As an agency providing resources to this segment of the population, FiftyForward experienced:
Exponential calls for help to its resource line (approx. 400%) Many of these calls related to lack of technology to gain resources including food and connecting individuals with community services,
An increased need for food delivered via FiftyForward Fresh/Meals on Wheels (last year our volunteers delivered 27,299 meals and provided safety checks to adults in our community who needed assistance.)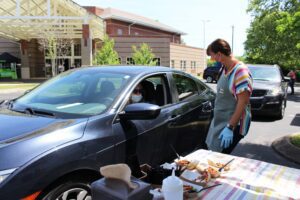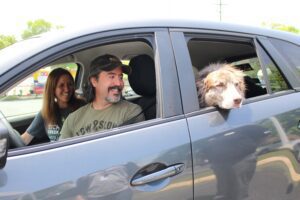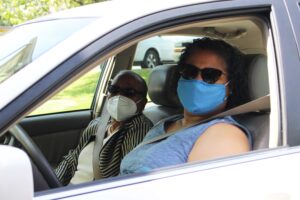 Older Americans Month began in 1963 when President John F. Kennedy and members of the National Council of Senior Citizens designated May as "Senior Citizens Month" which was the prelude to "Older Americans Month." Every President since President Kennedy has issued a formal proclamation commemorating May as Older Americans Month with the hopes that the nation would pay tribute and celebrate the contributions of older adults in their communities. Earlier this year, Tennessee Gov. Bill Lee proclaimed May as Older Tennesseans Month in honor of our state's older adults.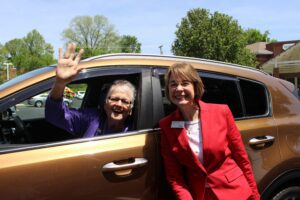 FiftyForward was founded in 1956, several years before this designation, with the mission of enhancing the lives of those 50 and older. This year's Older Americans Month theme focuses on communities of strength. FiftyForward events begin with this kick-off event, followed by a targeted 65 Hours of Giving campaign beginning at 5 p.m. on Tuesday, May 11 through Friday, May 14, ending at 10 a.m. Learn more: www.fiftyforward.org/olderamericansmonth.
FiftyForward is thankful to the following sponsors for their support of this event:  First Horizon, The Ayers Foundation, The Dorothy Cate and Thomas T. Frist Foundation, Bridgestone Americas Trust Fund, Dollar General, HCA Healthcare, Cigna, and Humana.
About FiftyForward
Established in 1956, FiftyForward supports, champions, and enhances life for those 50 and older. As a nonprofit serving Middle Tennessee, FiftyForward operates seven lifelong learning centers – two in William­son County and five in Davidson County – offering classes including health and wellness, arts, technology, virtual programming, and engaging volunteer opportunities. FiftyForward also provides comprehensive supportive care for older adults including essential services such as FiftyForward Adult Day Services, FiftyForward Fresh/Meals on Wheels, and care management. Learn more by listening to our podcast and stories at www.fiftyforward.organd by following us @FiftyForward on Facebook, Instagram, Twitter, and LinkedIn.
# # #