5 Random Questions with Dan Haseltine of Jars of Clay
Recently, we had an e-chat with Dan Haseltine of Jars of Clay, the Christian mega-band which has sustained a successful career since it emerged in 1995 nationally with the release of its self-titled album that went triple platinum. Haseltine, the lead vocalist, lives near downtown Franklin, Tennessee and says he enjoys spending time in and around this small town, at places like Blue Coast Burrito, McCreary's Pub, Red Pony and Bread and Company in Cool Springs.
Below are Dan's answers to our 5 random questions…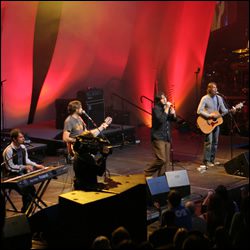 Song you wish you would have written?
I wish I had written, "It's a Small World." Then perhaps Belmont University would have the Haseltine Center. 🙂 I suppose the song, "One" by U2 seems to capture the prophetic nature of the songs I like to write. It is a song of unity and responsibility, and it moves me.
If you weren't playing with Jars what would your dream job be?
I think I would love to be in Marketing… I love being the guy that takes a product or an idea and tries to connect it to a movement. I get to do this with Blood:Water Mission, and it keeps this part of my passion fulfilled. I also wish I was a better photographer… I would love to be a photo-journalist. Okay one more…. I would love to be a music supervisor for movies. Nothing is more exciting then putting film and music together to tell a better story.
If you could star in a movie what actors would you want to be in it with you and what type of movie would it be?
I have a long standing crush on Cate Blanchett, and I have been a fan of Morgan Freeman since his role in the Electric Company. We could make a film adaptation of Gary Haugen's book, Terrify No More.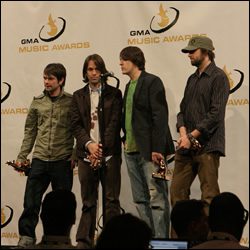 Something unusual that has happened on the road this past year?
Nothing surprises me anymore on the road. We had the great privilege of sitting next to Cindy Lauper at the Grammy Awards last year… She had a story for almost every person that walked on the stage. She was amazing, and it was such a thrill to tell her in person that she was a major influence in the sound of the first Jars of Clay record. I even got a kiss on the cheek out of it.
Your favorite childhood Halloween costume?
My favorite Halloween costume was the Wolfman when I was 9 years old. I covered my face with corn syrup, and then took long strands of cotton, after my face was covered, and my hands, we took make-up and turned the fibers brown… painted my nose black, and added some fake teeth… I won a contest for best costume at the town hall in Hampden, Mass., that year. I still remember loving that costume… but not the amount of clean up afterwards.
More about Jars of Clay…
The band members are:
• Dan Haseltine – vocals, percussion
• Charlie Lowell – piano, organ, accordion, keys, background vocals
• Stephen Mason – guitar, vocals, lap & pedal steel, national, mandolin, background vocals
• Matthew Odmark – acoustic guitar, banjo, background vocals
* visit the official Jars website…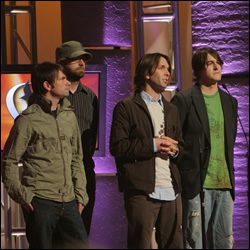 Albums released include:
2006 Good Monsters
2005 Redemption Songs — RIAA certified GOLD
2003 Furthermore: From The Studio, From The Stage — — RIAA certified GOLD
2003 Who We Are Instead — RIAA certified GOLD
2002 The Eleventh Hour — RIAA certified GOLD
1999 If I Left The Zoo — RIAA certified PLATINUM
1997 Much Afraid — RIAA certified 2x PLATINUM
1995 Jars Of Clay — RIAA certified 3x PLATINUM
1995 Drummer Boy (EP) — RIAA certified GOLD
Blood Water Mission
Dan Haseltine visited Africa in 2002, which in turn inspired the founding of Blood:Water Mission, a non-profit organization created to raise awareness and money for the poverty and AIDS stricken regions of the continent. The name is derived from, as Haseltine says, "The two things Africa needs most" – clean blood and clean water. The mission has begun the 1,000 Wells project, an effort to have a thousand new wells built throughout Africa.