PARTY FOWL SELECTED AS ONE OF FIVE ICONIC RETAURANT DISHES THAT INSPIRED LAY'S NEWEST FLAVOR ICONS POTATO CHIPS
Party Fowl to Receive $25,000 Gratitude Fund from Lay's as a Thank You for their Inspiration in the Kitchen and Ongoing Support of their Local Communities
Party Fowl is one of the five beloved American restaurants whose iconic Nashville Hot Chicken dish is being recreated by Lay's in potato chip form as part of Lay's Flavor Icons.
To "return the flavor" and acknowledge the economic impact of COVID-19 on the restaurant industry, Lay's has enacted a $25,000 Gratitude Fund for each of the Flavor Icons restaurants to put towards the various relief efforts that will help them recover from the impact of the pandemic.
As you know, Nashville Hot Chicken is Music City's most iconic dish and Party Fowl is honored to represent the city on a national level with this exciting partnership.
Available this month until supplies last, the limited-time-only Lay's Flavor Icons portfolio includes FIVE delicious new options.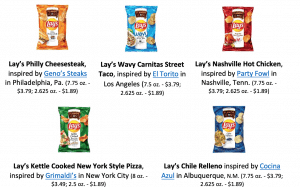 Starting July 27, fans will have a chance to win some cash of their own. Simply visit www.LaysFlavorIcons.com and enter the code from any marked bag (including other favorite Lay's flavors) now through September 10 for a chance to win $1,000.
The new restaurant-inspired Lay's may just offer the best of both worlds in the current environment – as according to the latest Frito-Lay Snack Index, one in three (34%) consumers are expecting to do more virtual hangouts with friends this summer.