Open House for New Outdoor Classroom and Wheelchair Accessible Sidewalks at Oaklands Mansion August 25, 2018
MURFREESBORO, Tenn. – You are invited to join us for the grand opening of the Outdoor Classroom at Oaklands Mansion. Mark your calendars now for Saturday, August 25th from 7:00 p.m.- 9:00 p.m. to experience this wonderful educational addition, as well as new wheelchair accessible sidewalks which encircle the entire mansion. The open house is free and open to the public.
Oaklands Mansion, an antebellum house museum located in downtown Murfreesboro, received a generous grant from The Christy-Houston Foundation for construction of an outdoor classroom and brick sidewalks which reach around the entire house. The historic mansion is listed on the National Register of Historic Places for both its architectural and Civil War significance. Since its initial restoration in1959, the mansion has been a house museum where visitors and residents alike can learn more about the roots of our community.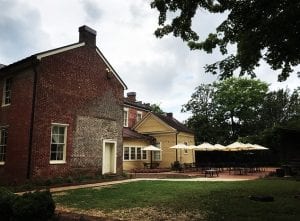 The new outdoor classroom will be used to create a more dynamic experience for our visiting school children, local residents, and tourists. This engaging space is situated around the historic detached kitchen, root cellar and herb gardens of Oaklands Mansion. In addition, the connectivity of the grounds is completed by means of sidewalks joining the Visitors Center, Mansion and Cottage. In the past, many visitors never saw the sides and back façade of the mansion due to uneven footing. Now, with an ease of movement, visitors will learn about medicinal and culinary uses of herbs in the period garden. The root cellar and detached kitchen will aid in the interpretation of food from plating, through harvest, preservation and preparation.
An open house for the public to experience and enjoy the space will take place on Saturday, August 25th from 7:00 p.m.- 9:00 p.m. The open house is free and open to the public. A food truck will be selling beverages and delicious snacks. Join us for the live music of Elaine Winters & Friends. While here, visit the mansion and stroll the beautiful grounds.
For more information visit www.oaklandsmansion.org call Oaklands at 615-893-0022.