Martin Masters Fine Art Show and Sale, Oct. 20-21, at FiftyForward Martin Center, to feature original works by more than 40 local and regional professional artists
Martin Masters Fine Art Show and Sale, Oct. 20-21, at FiftyForward Martin Center, to feature original works by more than 40 local and regional professional artists
For one fall weekend, the FiftyForward Martin Center will be transformed into an art gallery displaying over 500 original works of art by more than 40 local and regional professional artists including this year's featured artist Frank Baggett.
The twelfth annual Martin Masters event, a fine art show and sale will be held Oct. 20 and 21 at FiftyForward Martin Center (960 Heritage Way, off Concord Road, Brentwood, Tennessee 37027). The show is free, open to the public and there is plentiful parking and accessibility.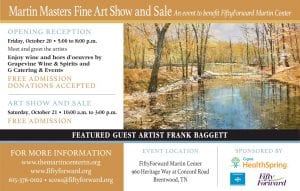 "If you have never been inside the FiftyForward Martin Center, here's an opportunity to indulge your artistic side and enjoy the rustic stone and wood beauty of its design," said Sherry Coss, Associate Director, FiftyForward Martin Center. "Art enthusiasts will have the opportunity to purchase art, meet the participating artists — including featured artist Frank Baggett– and find out how the lifelong learning center serves as a valuable resource and an oasis for adults 50+ in the community."
At the event's opening reception, Friday, Oct.20 from 5 to 8 p.m., attendees will enjoy lively music, hors d'oeuvres and wine sponsored by Grapevine Wine and Spirits and G Catering and Events. The Martin Masters Fine Art Show and Sale continues Saturday, Oct. 21 from 10 a.m. to 3 p.m.
"Martin Masters Fine Art Show and Sale continues to grow as it brings some very talented artists and our community together. This year's fine art sale promises an amazing selection of original art including paintings, sculpture, pottery and handcrafted jewelry in all price ranges and styles. The opportunity to visit with the artists makes selecting artwork a very personal and unique experience," said Coss.
This year's featured artist, Frank Baggett, is known nationally as a successful Landscape and Wildlife artist with more than 50 years of experience. In 2015, Frank was honored to become a Signature Member of the American Impressionist Society. The love of the outdoors has drawn Frank into en plein aire and has become his trademark for many works that are now displayed in private homes and art galleries in the United States.
According to Frank, "You cannot paint water, unless you get your feet wet".
A portion of the proceeds from the Martin Masters Fine Art Show and Sale benefit the Center's annual fund, providing financial support to expand the center's fine arts program, as well as other services including fitness, health and wellness, volunteerism, and lifelong learning.
Established in 1956, FiftyForward enriches the lives of adults 50+ by providing pathways to health, well- being and lifelong learning. With seven lifelong learning centers offering educational and wellness programs throughout Davidson and Williamson counties, the nonprofit organization also features FiftyForward Adult Day Services, FiftyForward Meals on Wheels as well as the FiftyForward Care Team offering care assessment and services to homebound adults. FiftyForward Travel offers adventures (near and far) and Senior Center for the Arts and The Larry Keeton Theatre, located in FiftyForward Donelson Station, feature performing arts for all ages. Get social with us – friend us on Facebook, follow us on Twitter. Learn more about FiftyForward resources and volunteer opportunities by visiting: www.fiftyforward.org. For additional information about the Martin Masters Fine Art Show and Sale, call (615) 376-0102 or visit: www.themartincentertn.org.