IROQUOIS STEEPLECHASE WOWS TREMENDOUS CROWD
Attendance exceed goals set by organizers
NASHVILLE, Tenn. –The Iroquois Steeplechase, sponsored by Bank of America and benefiting Monroe Carell Jr. Children's Hospital at Vanderbilt, wowed a tremendous crowd with riveting horse racing, lively guest contests and a full day of entertainment.
Iroquois Steeplechase Chairman Dwight Hall said, "This year really delivered on highlighting our annual traditions while launching exciting hospitality experiences on the grounds. We've also attracted many top-rated horses for one of the nation's top steeplechasing events and this year's outstanding attendance, the largest attendance we've had in over seven years, reflects our diligence to improving the experience for our competitors and guests each year."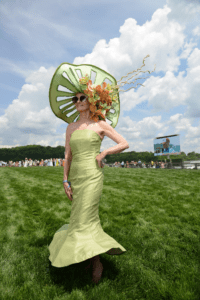 The sold-out box seat area overlooked the track and grounds while the centerfield played host to the tailgaters and a new Royal 615 Lounge with a patron and VIP experience including lively DJ's and craft cocktails. Guests also participated in Action 24/7 "Free to Play" contest as well as a style contest, tailgating contest and hat contest.
The winners of this year's Iroquois Steeplechase are:
Race 1: Fast Vision trained by Leslie Young, ridden by Harrison Beswick and owned by Leipers Fork Steeplechase
Race 2: Proven Innocent trained by Jack FIsher, ridden by Connor Hankin and owned by Bruton Street-US
Race 3: Scorpion's Revenge trained by Cyril Murphy, ridden by Barry Foley and owned by Irvin S. Naylor
Race 4: Snap Decision trained by Jack Fisher, ridden by Graham Watters and owned by Bruton Street-US
Race 5: Down Royal trained by Bernard Dalton, ridden by Kate Dalton and owned by Joseph F Fowler, Jr.
Race 6: Monbeg Stream trained by Leslie Young, ridden by Thomas Garner and owned by John Greene
Iroquois Steeplechase is sponsored by Bank of America. Sponsors and community partners include TVV Capital, Brown Advisory, Row Associates, Action 24/7, NashComm, EY, Westlight Studios, Conrad Nashville, Nashville Lifestyles, R.H. Boyd, Brown Forman, Lipman, Jack Daniels, Andrews Transportation Group, News Channel 5, Tri Green Equipment, Compass, FarmVet, Nashville Post, Amazon, AT&T, MARS Equestrian, Publix, NFocus, Your Williamson, Your Sumner, StyleBlueprint, Sophisticated Living, The Tennessean, Belle Meade Lifestyle, Super Talk 99.7 WTN, Nash Icon 95.5, 105.5 The Zone, 92Q and 103.3 Country. For more information, visit https://www.iroquoissteeplechase.org.
About The Iroquois Steeplechase
The Iroquois Steeplechase is an iconic sporting event that has been Nashville's rite of spring since 1941. Held the second Saturday of each May at Percy Warner Park, the annual event attracts more than 25,000 spectators and is Music City's celebration of time-honored traditions, Tennessee hospitality and southern fashions. The event also supports several philanthropic causes and has donated nearly $11 million to Monroe Carell Jr. Children's Hospital at Vanderbilt since 1981. To learn more about Steeplechase, visit www.iroquoissteeplechase.org.