Heritage Foundation Announces Dickens of a Christmas Entertainment and Other Details
Presented by First Citizens National Bank, Dickens brings authentic Victorian holiday cheer to historic downtown Franklin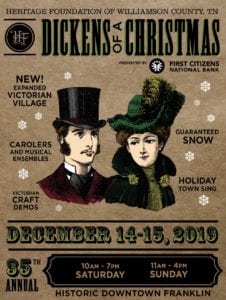 Dec. 10, 2019 (FRANKLIN, Tenn.) – The Heritage Foundation of Williamson County's 35th annual Dickens of a Christmas presented by First Citizens National Bank will have an abundance of entertainment for the entire family. There are four main areas where guest can enjoy entertainment, at the Bavarian Bierhaus Beer Garden, in the Victorian Village, at the GSRM Law Stage and at The Franklin Theatre on Saturday evening. 
Bavarian Bierhaus Beer Garden

 

Saturday, Dec. 14

 

1:00 pm: Keg Tapping by City of Franklin Mayor Dr. Ken Moore

 

3:00 pm: Chicken Dance Contest

 

Sunday, Dec. 15

1:00 pm: Keg Tapping by Heritage Foundation CEO Bari Beasley

 

3:00 pm: Chicken Dance Contest

 
Following the tapping, the beer in the celebratory kegs is free until it runs out. In order to receive the free beer, guests must be 21 years old or older and have a wristband. Wristbands are obtained at the entrance to the Beer Garden following an ID check. 
9:45 am: Opening Ceremony and Ribbon Cutting

 

10:15 am: Ann Carroll School of Dance

 

11:00 am: Williamson County Parks and Recreation's Rhythm & Spirit
11:45 am: Act Too, Holiday Songs and Songs from The Great Comet of 1812
12:30 pm: Southern Academy of Irish Dance
1:15 pm: Music City Strings
2:00 pm: Frozen-Inspired Performance by Franklin Party Stylist
2:45 pm: The American Caroling Company
3:30 pm: Taylon Hope

 

4:15 pm: 48 Brass

 

5:15 pm: Michael Ricks
6:00 pm: Patrick Thomas

 

6:30 pm: Town Sing on Public Square led by Patrick Cassidy and the Town Crier John Mather
11:00 am: Opening Remarks
11:30 am: Morgan Clark

 

12:15 pm: Hailey Dawn

 

1:45 pm: Belles of Franklin
2:00 pm: Frozen-Inspired Performance by Franklin Party Stylist
3:15 pm: Joseph Shackleford Electric Violinist
4:15 pm: Town Sing at Historic Franklin Presbyterian Church
Victorian Village

Charles Dickens

 

48 Brass
The American Caroling Company

 

Brentwood Strings
Flat Creek Dancers

 

Franklin High School Chorus

 

Goode Time Carolers

 

Kurt Heinecke & Sons (Tuba and Violins)

 

Michael Ricks

 

Vintage Carolers
Yuletide Carolers
The Franklin Theatre

A Dickens of a Christmas Theatrical Experience: "A Christmas Carol with Jason Woods," Saturday, Dec. 14, 7:30 p.m. actor Jason Woods transforms into over 25 characters as he describes every shadowy phantom, mouth-watering morsel of Christmas dinner and tear of joy from the beloved Charles Dickens tale. Tickets are still available at FranklinTheatre.com.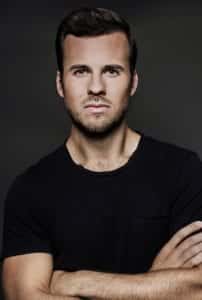 Saturday's headliner, Patrick Thomas, is a Nashville-based songwriter, artist and multi-instrumentalist. In addition to recently releasing his self-titled debut EP, produced by Grammy Award-winner Mark Bright and Will Bowen, Thomas is actively involved with local theatre company, Studio Tenn. He has performed in "The Hank Legacy," "Cash Legacy," "Glen Campbell Legacy," and "The Battle of Franklin," for which he was also the sole composer and musical director. He is starring in "Christmas with Patrick Thomas" on Dec. 17 and 18 at The Factory at Franklin. Tickets are still available at StudioTenn.com.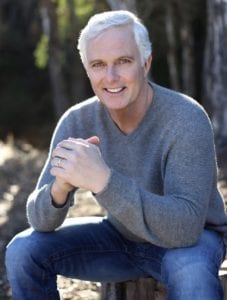 Saturday's town sing leader Patrick Cassidy is an acclaimed performer and director with a career spanning Broadway, film and television. Earlier this fall, Cassidy moved to the Franklin, Tennessee area from Los Angeles to take the role of artistic director of Studio Tenn. Most recently, Patrick served as artistic director for 5-Star Theatricals, the resident musical production company at Civic Arts Plaza, the largest theater between Los Angeles and San Francisco. 
The Franklin Transit Authority will offer park-and-ride shuttle services to and from the festival beginning at 10:00 a.m. Saturday and 11:00 a.m. Sunday. Shuttles will pick up and drop off at the Park at Harlinsdale Farm (Saturday and Sunday) and Church of the City (Saturday only). Shuttle rides are $1 per person each way. All shuttles are ADA accessible. Pets (except certified service animals), non-folding strollers, and food or drink (except bottled water) are not permitted. There is limited parking available (including handicap parking) in the 2nd and 4th Avenue garages and on city streets outside the festival footprint.
Sponsors and key supporters include presenting sponsor First Citizens National Bank; partner-level sponsors Frost Brown Todd, The Heritage at Brentwood, Mars Petcare and Pilgrimage Music & Cultural Festival; host-city partner City of Franklin; stage sponsor GSRM Law; VIP member lounge sponsor Berry Farms; beverage partner Bavarian Bierhaus; Victorian Village partners Harpeth TrueValue and Sprout's Farmers' Market; media partners JACK fm, Mix 92.9, SuperTalk 99.7, WLAC Talk Radio 98.3, FOX 17, Franklin Home Page Media Group, Nashville Scene, Southern Exposure, Williamson Herald and YOUR Williamson; and festival friends AARP, Commercial Bank, Farmers Insurance, Leaf Filter, National Dance Club, New Frontier Outfitters, Novel Lockwood Glen, Peach Skin Sheets, Pinnacle Home Improvement, Queener Law and Renewal by Anderson. 
To learn more about the 35th Annual Dickens of a Christmas presented by First Citizens National Bank, visit WilliamsonHeritage.org/Dickens. 
About the Heritage Foundation of Williamson County, TN
Since 1967, the Heritage Foundation of Williamson County, TN has been dedicated to protecting and preserving Williamson County's architectural, geographic and cultural heritage and promoting the ongoing revitalization of downtown Franklin in the context of historic preservation. Notable projects include The Franklin Theatre, Roper's Knob, parts of the Franklin battlefield and the Old, Old Jail. The Foundation brings county history to about 3,000 public, private and homeschooled children each year through the Heritage Classroom program and walking tours of downtown Franklin. Events and festivals produced by the Heritage Foundation such as Main Street Festival, the Heritage Ball, Pumpkinfest and Dickens of a Christmas bring hundreds of thousands of locals and visitors to downtown Franklin each year. The Heritage Foundation owns and operates the "home of first kisses," The Franklin Theatre, the area's nationally accredited Main Street Program through the National Trust for Historic Preservation, Downtown Franklin Association, and the organization's newest division and current restoration and rehabilitation project, Franklin Grove Estate & Gardens. For more information about the Heritage Foundation, visit https://williamsonheritage.org.