URBAN FARMER STEAKHOUSE TO OPEN FIRST NASHVILLE LOCATION THIS FALL 
Urban Farmer plants its Nashville roots in Hutton Hotel
URBAN FARMER PLANTS ROOTS IN NASHVILLE
Urban Farmer Steakhouse announced today that the award-winning family of restaurants will be expanding to Nashville in the fall. This October, the new Urban Farmer location will open in Hutton Hotel in Nashville's popular Midtown neighborhood. Urban Farmer Nashville joins locations in Denver, Portland, Cleveland and Philadelphia, and is the first Urban Farmer restaurant in the Southeast. The modern steakhouse is known for its shared values and craveable, soulful food, served thoughtfully in a down-to-earth setting.
EAT & DRINK
Urban Farmer develops mutually supportive, real relationships with local and regional farmers, ranchers, butchers, fisheries and produce purveyors to responsibly source high-quality ingredients. The restaurant's chef-driven approach allows for flexibility, resulting in a more modern steakhouse experience where the steak is phenomenal, but the rest of the menu is definitely not an afterthought. While Urban Farmer shares favorite recipes across kitchens, each location seeks native produce varietals and local partners to bring them to life, and much of the menu is up to the local Executive Chef to develop, with Nashville being no exception. Led by Executive Chef Hector Campos, who has over twenty years of experience in casual and fine dining restaurants and prestigious five-star luxury hotels and resorts across the world, the Urban Farmer Nashville team is currently building new relationships in the Middle Tennessee region with partners from local farmer's markets and other Nashville area businesses.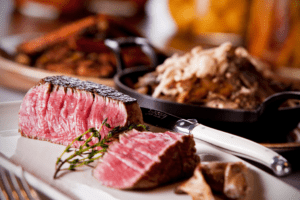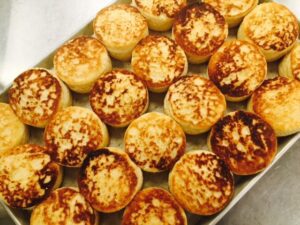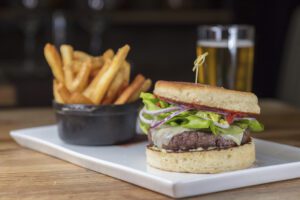 The Urban Farmer Nashville menu will feature classic starters like Beef Tartare and a carefully curated Cheese & Charcuterie Board, as well as craveable entrées like the signature New York Steak Tasting – featuring a flight of 5 oz steaks so guests can taste the nuances between grass-fed, grain-fed and cattle raised by different ranch partners – or the Farm Burger served on Urban Farmer's famous house-made English Muffin. The menu also includes a variety of seafood options and vegetarian-friendly entrees that won't disappoint, like a Whole Roasted Mushroom with preserved lemon curry, couscous tabouli and black garlic molasses.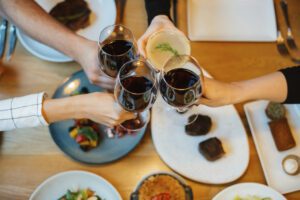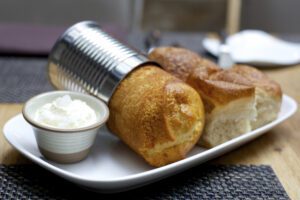 Guests can also indulge in signature sides and desserts, including the Twice Baked Fingerling Potato Tart, Baked Mac and Cheese, Roasted Local Mushrooms, house-made Cornbread and the crowd-favorite Butterscotch Sundae. To complement meals, the restaurant offers a robust wine and cocktail program, along with draft and bottled beer.
AN URBAN ATMOSPHERE
Designed with an approachable ethos in mind, Urban Farmer's design and décor are anything but traditional steakhouse. Interiors are sourced locally whenever possible and will honor the Middle Tennessee region with inspired materials and touches like live-edged tables and a modern art program highlighting eclectic, local artists. The welcoming, relaxed yet sophisticated atmosphere can flex, whether guests are celebrating a special occasion, seeking a week-night spot for family dinner or meeting to discuss business over lunch. With seating for 165 guests, the restaurant will feature indoor dining, including a 15- seat bar and high-top bar area seating, along with patio seating and two private dining rooms that can be combined into one larger space. Adding to the comfortable atmosphere, the front of the restaurant will have a retractable wall to create an indoor/outdoor open-air experience. Instead of white linen tablecloths, Urban Farmer Nashville will top tables with natural, sustainable details, like coconut wax candles instead of paraffin wax, as a part of the brand's progress towards sustainability initiatives.
SHARED VALUES
Urban Farmer believes in putting a culture of community and caring on every plate, and is committed to sustainability and zero-waste initiatives. Each restaurant has found a way to bring a passion for the culinary ecosystem to life – from rooftop beekeeping, urban gardening and on-site mushroom terrariums to the distribution of seed packets made with local wildflowers that attract bees who can pollinate and support the local ecosystem. The restaurants compost to divert trash from landfills, choose recyclable and biodegradable to-go wares, never use single-use plastics and leverage aquaponics and hydroponics to grow lettuce and herbs used on menus and in cocktail programming. What's more, Urban Farmer teams are constantly looking for creative ways to go zero waste – for example, leveraging kitchen byproducts in the cocktail program, like dried mushrooms from the terrarium, leftover apple juice from apple cobblers in the winter and more.
The restaurant's teaching kitchens are meant to grow and cross-train talent, offering opportunities for education like sommelier certification and training in sustainable initiatives such as beekeeping, composting, gardening and more. The culture of innovation challenges staff to find new ways to bring shared values to life and initiatives evolve with each new restaurant as local teams create, imagine and share with each other to inspire continued passion. As part of Sage Restaurant Concepts (SRC), the restaurant also supports the Hungry to Help program, which since its origin in 2016 has raised more than $250K for partner charities such as Share Our Strength, CORE, World Central Kitchen and Feeding America.
ABOUT URBAN FARMER STEAKHOUSE
In a world of white tablecloths and subtle snobbery, Urban Farmer is doing something rare: being real. Less steak and more house, Urban Farmer is an escape from the ordinary that is unexpected, unpretentious, and unforgettable. Continuously redefining what it means to be a steakhouse, Urban Farmer's intuitive hospitality creates relaxed interactions that are both deeply delightful and pleasantly surprising, giving high-end a new beginning.
With other locations including Portland, Cleveland, Philadelphia, and Denver, Urban Farmer was founded on the idea that combining responsibly sourced food, high-quality ingredients and down-to-earth values would create a new kind of steakhouse, where people could create memories and communities could thrive. Each restaurant works with a network of farmers, ranchers and other local artisans to bring their flavors to life. Culinary teams have the freedom to explore local harvests, seasonal ingredients and unique partnerships that continuously inspire authentic and inventive menu updates. With signature dishes that triumph over every taste bud and a culture that cares for its people, guests, communities, animals and farmers, Urban Farmer is a place where thoughtfulness goes full circle.
ABOUT HUTTON HOTEL
Located steps away from Nashville's Music Row and minutes from Bridgestone Arena, Nissan Stadium, and the Country Music Hall of Fame, Hutton Hotel immerses guests in the city's thriving music scene and creative culture. Humming with energy, it is known for playing host to Music City's most influential players over the years. With inspiration around every corner, it's where Nashville comes to work and play. Creating an elevated experience that captures the excitement and energy of Music City, Hutton Hotel, with its modern aesthetic and laid-back style, is the ideal place for catching up with friends over cocktails, indulging in a memorable meal at Urban Farmer, or listening to live music in our Vinyl Library, which also features a selection of original vinyl records. This creative enclave puts you in the center of it all with its own intimate entertainment venue, Analog, and the exclusive Writers Studios, which provide a special space for artistic expression. Feeling the energy of the creative spirits who stay here will captivate your imagination while also capturing the energetic vibe of Nashville. Here, you'll be surrounded by creativity in the making.