Looking for things to do, events in Franklin, Brentwood or Williamson County.  Maybe fun things for the family, kid events, date night or activities near you.  Check out our calendar of events below.

Gilda's Gang 5K and 1 Mile Family Fun Run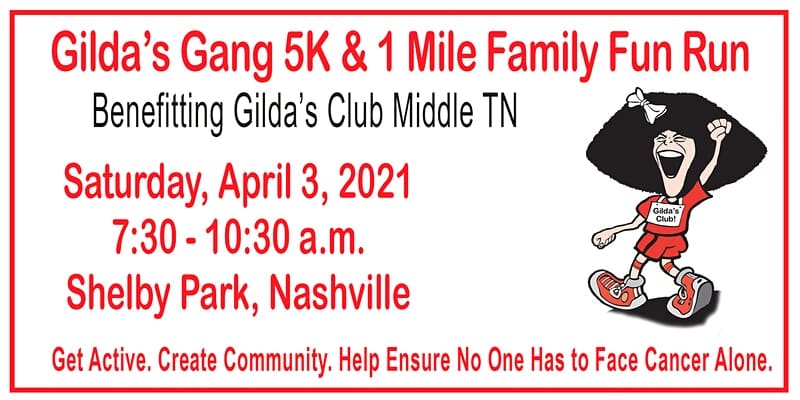 The inaugural Gilda's Gang 5K & 1 Mile Family Fun Run is Saturday, April 3, 2021 at Shelby Park and benefits Gilda's Club Middle Tennessee.
About this Event
Grab your family and friends and join us for an untimed run/walk through beautiful Shelby Park in East Nashville (just 5 miles from our Clubhouse; just down the road from Titans Stadium). Or participate virtually from your own neighborhood! It's all for a great cause: Proceeds benefit Gilda's Club Middle Tennessee's free cancer support program. Together, we're ensuring no one has to face cancer alone!
Doors open: 7:30 a.m.
5K start: 8 a.m.
1 Mile Family Fun Run start: 9 a.m.
Post-run fun until 10:30 a.m.
This is an untimed, all ages event. Children 6 and under don't require registration and are free (without T-shirt, but please ask for an extra race bib at packet pickup).
*Note: We will do everything in our power to make this a COVID-safe event, with socially distanced packet pickup and day-of protocols. Read below for more details.
A huge thank you to our Gilda's Gang event committee:
Bruce Lyon* and Danielle Gilbert* – Co-Chairs
Ronald Addlestone, Jessica Averbuch, Mick Brown, Tish Doochin, Lisa Fair, Kellie Givens*, Leslie Kling, Rabbi Laurie Rice, Trent Robinson, Mary Beth Thomas*, Stephanie Townsend, and Jule West*
*Denotes legacy Gang members
How we'll help keep Gang participants safe:
In addition to having a virtual option — where people can participate independently OR opt to be paired with someone who's doing the run/walk in person for a joint FaceTime run — we are committed to ensuring COVID best practices, including:
Packet / T-shirt pickup will be held outside at our clubhouse. We'll have masked staff and/or volunteers dedicated to "trafficking," so that individuals are safely spaced if a line is formed. We'll also be pro-actively asking people to wear their masks to packet pickup via participant emails, and we'll have plenty of hand sanitizer on hand.
On race day, we'll take a similar approach:
For the pre- and post-run/walk, we'll have dedicated, masked traffickers on hand to ensure safe spacing and masks at any time people may need to congregate, for example at the coffee/water/snack tables and kids' art tables; as welcome and post-run announcements are made; and as participants are lining up at the start of the run. And, again, lots of hand sanitizer will be on hand.
At the water stations along the course, we'll ensure volunteers are safely spaced and that those handing out water are wearing masks, so that runners/walkers aren't forced to congregate. And more hand sanitizer, of course.
Lastly, we'll be making announcements throughout the event, reminding people to participate safely as a show of respect for all event attendees. Masks should only be removed when participants are safely distanced from those outside of their pod.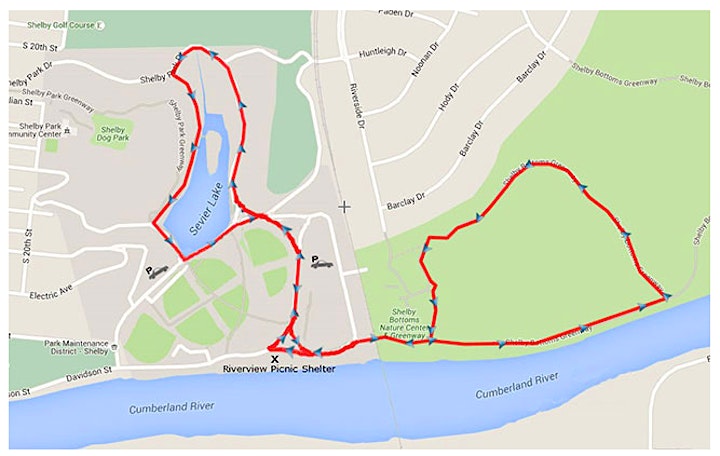 About Shelby Park
Shelby Park (aka Shelby Bottoms Park) is a short drive from the Gilda's Club clubhouse. When you turn left onto Davidson Street, follow it until the stop sign located near the Vinny Links Golf Course. Continue through the stop sign and to just the playground. Plenty of free parking is available alongside the playground and on the far side of the youth baseball field. The Riverview Shelter, where we'll be gathering to both start and finish our run/walk is on the Cumberland River side of the road, directly across from the playground.
Our 5k course begins at Riverview Shelter, loops around Sevier Lake, and extends into Shelby Bottoms Greenway – ending where we start. Our 1-mile course begins at Riverview Shelter and is .5 into Shelby Bottoms Greenway and back. Both courses are beginning courses.
About Gilda's Club Middle Tennessee
Gilda's Club Middle Tennessee, an affiliate of the Cancer Support Community, is dedicated to providing support, education, and hope to all people impacted by cancer, including those diagnosed and family and friends.
Free of charge to everyone – thanks to our generous donors – Gilda's Club Middle Tennessee's evidence-based program for adults, teens, children, and families includes support groups, health and nutrition coaching, healthy lifestyle workshops, mind-body classes, social activities, educational lectures, and community resource information. Offering approximately 70 professionally-led support and networking groups, and more than 80 educational workshops and lectures each month – either online or from our midtown Nashville location, Gilda's Club Middle Tennessee is able to make a tangible difference in the lives of those impacted by cancer. We build community, so no one has to face cancer alone.
About Gilda's Club's Program
From support groups and healthy lifestyle workshops to mind-body classes and social activities, our cancer support program is always free of charge and available to everyone. If you have cancer, or have a friend or loved one with cancer, Gilda's Club Middle Tennessee is here for all of you!
Support Groups – Support groups are facilitated by licensed clinicians and provide a weekly opportunity for shared exploration of the many emotions and challenges that come with living with cancer. Strong peer relationships are forged as members explore individual needs and identify common issues.
Networking Groups – Networking groups provide opportunities for Gilda's Club members to discuss common issues and experiences, exchange practical advice, and problem solve. Examples of current networking groups include Multiple Myeloma Group, Lung Cancer Group, Colorectal Cancers Group, Head and Neck Cancers Group, and Gynecologic Cancers Group.
Educational Lectures – Educational lectures from experts and specialists empower Gilda's Club members to acquire new skills, tools, information, and techniques for learning how to live with cancer. Lecture topics include the latest findings on cancer treatment, pain/symptom management, financial concerns, personal and family issues, and much more.
Workshops and Classes – Gilda's Club Middle Tennessee offers workshops and classes almost daily and often on a recurring basis. Join us for Tai Chi, guided imagery and relaxation, glass painting, quilting, guitar lessons, cooking classes, writing workshops, yoga, and so much more.
Noogieland™ is designed specifically for children and teens ages 5-17 who have a loved one living with cancer, have a diagnosis of cancer themselves, or are grieving the loss of a loved one. Noogieland™ is named after the "noogies" that Todd (Bill Murray) gave to Lisa (Gilda Radner) on Saturday Night Live. Aimed at educating, supporting, and connecting families impacted by cancer in any way, the free Noogieland™ program for children, teens, and families includes support groups, workshops, and special events ranging from family game nights and sports outings to movie nights and group art projects.
View our 2019/2020 Annual Report to learn more about our impact: 2019/2020 Annual Report.
About Dr. Gail Addlestone and Gilda's Gang
During her lifetime, Dr. Gail Addlestone was many things to many people…a daughter, wife, mother, friend, and trusted pediatrician. For those of us at Gilda's Club, yes, Gail was each of these things, but, somehow, within our walls, she managed to still be more.
Gail first became involved with Gilda's Club as a volunteer. Having lost her own mom to ovarian cancer, she was passionate about our mission from the very start. But, then, just a couple of years later, Gail was diagnosed with metastatic breast cancer.
As Gail endured surgery, chemo, radiation, and more, she took on her second role at Gilda's Club: Member. Gail participated in our weekly Moms Support Group and opened the door for us to serve her father, husband, daughter, and friends. Soon, sadly, Gail had to stop practicing medicine. This is when she changed roles yet again. This time, she became a part of our staff, serving in a way that combined her two passions: exercise during cancer treatment and supporting Gilda's Club. Gail accomplished much while working for Gilda's Club, but is perhaps best known for establishing what would later become Gilda's Gang – a half-marathon training program and fundraiser that raised more than $1.3 million for Gilda's Club between 2006 and 2017.Since her death in 2007, Gail's legacy has been recognized by Gilda's Club in a number of ways. Gilda's Gang was named in her honor, and she was celebrated posthumously with the Nancy Saturn Award of Inspiration in 2011. In addition, in 2018, the Dr. Gail Addlestone Community Building Award was created and is presented annually.
On Saturday, April 3, 2021, Gilda's Club will honor Gail's legacy yet again with the inaugural Gilda's Gang 5K and Family Fun Run, benefiting Gilda's Club's free cancer support program. We hope you'll join us!
Learn more about Gilda's Club! Take a virtual tour of our clubhouse…